ABM Archive Website
THIS WEBSITE CONTAINS ARCHIVE MATERIALS FOR HISTORICAL REFERENCE ONLY
For up-to-date information, including our latest appeals, news, and resources, please visit our current website.
Myanmar: Catechist Refresher Training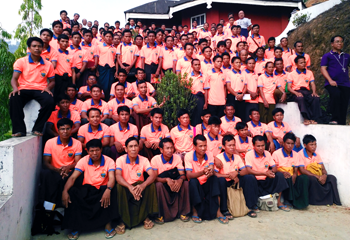 The Catechist Conference held in 2015 was successful and to
run again in 2016 it needs your support.© CPM 2015.
This is part of the Church to Church Program: Learn more about ABM's Programs here.
Sittwe Diocese is in a remote area in Myanmar but has 60 priests and 165 catechists. The Diocese tells ABM, "We are proud of having these active ministers and give great thanks to God for giving them such."
The Diocese tries to hold catechist refresher training courses every two years which sees small groups of catechists gather for a month. Refresher training is very important because there are many new catechists and all need to access up-to-date information and knowledge.
"Catechists have many difficulties and challenges in their field and changes are happening every time. We conduct refresher training to motivate catechists in their knowledge and spirituality," the Diocese representative said.
Through this refresher training, the leadership skills and abilities of catechists will be improved, and it is hoped their work will become successful for the church, the community and those in need.
The Diocese has previously run these trainings with their own resources but in 2016 is facing financial challenges so they are asking for support. Please give generously.
MM011MR needs $11,832 in 2016 (non tax-deductible)
HOW TO DONATE
You can make an online donation to this project by selecting Myanmar: Catechist Refresher Training from the full project list.
Alternatively, for donations by cheque/money order (made out to the Anglican Board of Mission – Australia), telephone or email, view contact details here. Please don't forget to include the project name and/or code with your payment details.
Gifts to ABM will be applied to the support of project(s) selected. In the unlikely event of the project being oversubscribed or not proceeding to completion, donations will be applied to a similar project to the one(s) selected.
Project Update
June 2016 – The first Catechist Refresher Training was held during the month of May, with participants gaining many insights that will support them in their ministry work. Read more
< Back