ABM Archive Website
THIS WEBSITE CONTAINS ARCHIVE MATERIALS FOR HISTORICAL REFERENCE ONLY
For up-to-date information, including our latest appeals, news, and resources, please visit our current website.
Catechist Refresher Training Update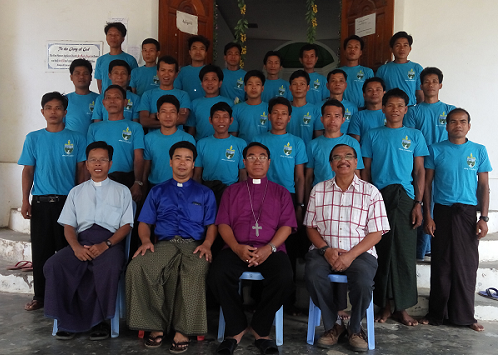 Clergy and participants in the first Catechist Refresher Training course held in Myanmar
June 2016
The first Catechist Refresher Training was held during the month of May, with participants gaining many insights that will support them in their ministry work.
One such participant was U Win Swe (pictured second from the left in the third row). He said that he is serving in Phoungdaw U mission field, and is so happy for the opportunity to learn from senior clergy, and meet others like himself from different regions.
U Win Swe said that he had never attended a refresher course like this before, and really appreciated learning more about the Anglican tradition, Biblical doctrines, and the Catechist responsibility in Church.
This course inspired confidence in him for the future, encouraging him in his ability to lead others in their faith. He wanted to thank God and ABM for enabling this training to happen, and hopes it will continue in the future, with more opportunities to learn and meet other ministers.