ABM Archive Website
THIS WEBSITE CONTAINS ARCHIVE MATERIALS FOR HISTORICAL REFERENCE ONLY
For up-to-date information, including our latest appeals, news, and resources, please visit our current website.
Myanmar: Church Music School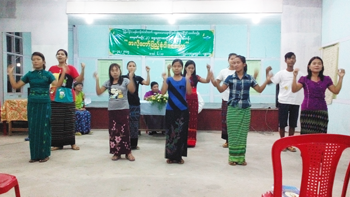 Young people and students of the church music school.
© CPM 2015.
This is part of the Church to Church Program: Learn more about ABM's Programs here.
Music is very important in Christian worship, yet in the Province of Myanmar, there has been no church music school. The aim of this new project is to train people in Myanmar in church music so that they can serve the Church through music and worship to God. The training will be offered through a two year course that provides students with a certificate in church music.
It is also hoped that this training will go some way to create traditional church music for Myanmar and be more effective in God's ministry.
A Diocesan Music School commenced in late 2015 which, in the future, will also be open to other denominations.
Your support of this project will offer the Church Music School some teaching aids and musical instruments.
MM011YA needs $6,000 in 2016 (non tax-deductible)
HOW TO DONATE
You can make an online donation to this project by selecting Myanmar: Church Music School from the full project list.
Alternatively, for donations by cheque/money order (made out to the Anglican Board of Mission – Australia), telephone or email, view contact details here. Please don't forget to include the project name and/or code with your payment details.
Gifts to ABM will be applied to the support of project(s) selected. In the unlikely event of the project being oversubscribed or not proceeding to completion, donations will be applied to a similar project to the one(s) selected.
PROJECT UPDATE
August 2016 – The Diocese of Mandalay is alive with the sound of music! The Church Music School is fully operational, with 15 students and 8 teachers busy about their work. Thanks to the generosity of our ABM donors, the school has been supplied with 4 guitars, 2 keyboards, and 2 violins. There are also plans to buy 2 more keyboards with the available funding. Read more.
< Back