ABM Archive Website
THIS WEBSITE CONTAINS ARCHIVE MATERIALS FOR HISTORICAL REFERENCE ONLY
For up-to-date information, including our latest appeals, news, and resources, please visit our current website.
Church Music School Update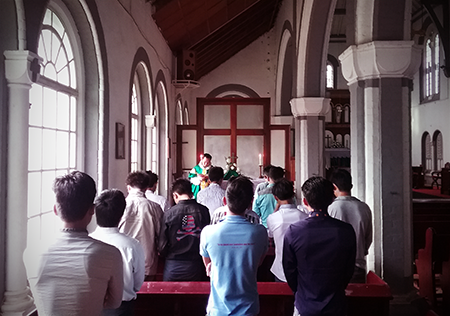 Students attend the morning service at All Saints Church in the school compound
August 2016
The Diocese of Mandalay is now alive with the sound of more music!
The Church Music School (named Pyin Oo Lwin) is fully operational, with 15 students and 8 teachers busy about their work. Thanks to the generosity of our ABM donors, the school has been supplied with 4 guitars, 2 keyboards, and 2 violins. There are also plans to buy 2 more keyboards with the available funding.
These are all being put to good use, as the students participate in a plethora of worship services across the country, in addition to their daily music lessons and bible study. Every church in the Diocese of Mandalay has received a visit from the students, as part of their field training, to both build their own confidence and to encourage the different parishes in their worship.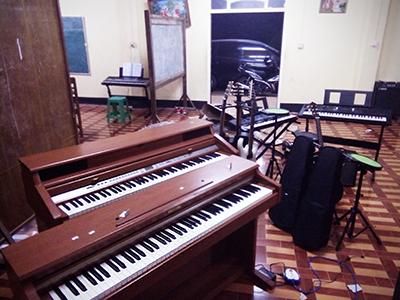 Instruments purchased with support from ABM
During October and December, the school is being closed so that the students can tour further afield, to areas where the church is relatively isolated geographically. These trips will include ministry with the Sunday school children, fostering a love of worship and music from an early age.
In addition to all these activities, the student provide both the music and singing every Sunday in their local All Saints' church in Mandalay. Quite a busy program!
Many thanks to everyone who has given to this project, helping to create so much joy and thanksgiving to God. The school still has additional instruments it would like to buy, as well as both musical and theological books for their library. If you would like to give in supporting this work, it will be very much appreciated.