ABM Archive Website
THIS WEBSITE CONTAINS ARCHIVE MATERIALS FOR HISTORICAL REFERENCE ONLY
For up-to-date information, including our latest appeals, news, and resources, please visit our current website.
Myanmar: Establishment of Language & Training Centre at St Peter's Bible School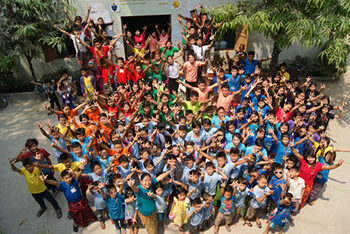 Group photo taken during the 4th Summer course run by St
Peter's Bible School. © St Peter's Bible School, 2016.

In the Diocese of Taungoo, the Church of the Province of Myanmar is committing to the education program outlined in its strategic plan. 170 miles from Yangon, there are many young people and children from low income families
desperate to access English language courses and computer and music training for better
opportunities.
Funding from this project will allow St Peter's Bible School to establish an English Language Centre, offering language, computer and musical training for young people from different parishes.
An Anglican summer course will allow students to make use of the existing school buildings and 100 young people will receive the benefits.
Life in Myanmar has changed rapidly in recent years and there are many demands on young people.
Project Coordinator, the Rev Aung Khaing Nyunt said, "Young peoplen and children who are from low
income families but eager to learn English language and computer do not have many opportunities but
those who live in different parishes within Taungoo Diocese will be able to come to this project."
"English language becomes an essential language for young people not only for their further education but also for job opportunity. Therefore, this project will be very useful for their future dreams," he said.
Your generous gift will allow the employment of professional trainers, as well as the purchase of teaching aids, musical instruments and computers.
MM011LT needs $10,000 in 2018 (non tax-deductible)
HOW TO DONATE
You can make an online donation to this project.

Alternatively, for donations by cheque/money order (made out to the Anglican Board of Mission – Australia), telephone or email, view contact details here. Please don't forget to include the project name and/or code with your payment details.
Gifts to ABM will be applied to the support of project(s) selected. In the unlikely event of the project being oversubscribed or not proceeding to completion, donations will be applied to a similar project to the one(s) selected.
< Back