ABM Archive Website
THIS WEBSITE CONTAINS ARCHIVE MATERIALS FOR HISTORICAL REFERENCE ONLY
For up-to-date information, including our latest appeals, news, and resources, please visit our current website.
Myanmar: Language & Training Centre Update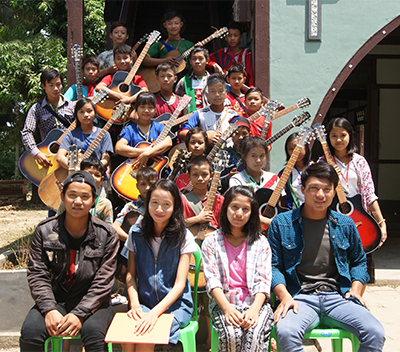 Guitar class at St Peter's Bible School
May 2019
Summer holidays in Australia normally mean time with family and friends keeping cool at the beach or the river, visiting relatives and generally anything BUT school.
Not so for 195 students in the Diocese of Taungoo: their summer holidays meant a chance to improve their English and learn new skills in music, art and computer skills. These students are from low income families and communities in and around Taungoo City in Bago Province of Myanmar, 220 Km from Yangon, where opportunities may be limited. While they were largely from 15 parishes across the Diocese, some students were from other denominations and religions, including Buddhism, Animism and Islam. 17 qualified instructors taught a range of classes from beginners to more advanced levels and for students aged 6 to 20 years.
ABM recently received a report from the Diocesan Bishop and the course coordinator. In it they say:
…The [students] are interested in English subject more than before. They came to know the importance of English subject for their future life. We also find that it is easier for them to learn English when they go to school after taking English class at summer course. It appears that they are better than other students in this subject.
Other young people who attended music classes, they began to use their skill in their churches. They played guitars and keyboards at Sunday school class and youth services. They began to serve in the church with their ability. By doing so, their parents also feel happy about their children.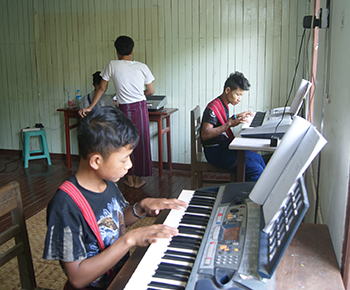 The classes are held at St Peter's Bible School, on the outskirts of Taungoo City. As there is limited mains power, generators were needed to run the computer and keyboard classes. They also had limited space with some classes being run in the one large room. They hope to overcome these difficulties with another project underway to expand the school facilities. This means they may be able to offer more classes to more students next summer holidays.
While organising and running such a summer school can be challenging, the team know how important it is:
No matter how much we felt tired during the summer course, when we saw the fruits of it, we felt happy and enjoy for…having this kind of opportunity. We also appreciate and are grateful to all donors through their contributions we could do more thing for the future of the young people.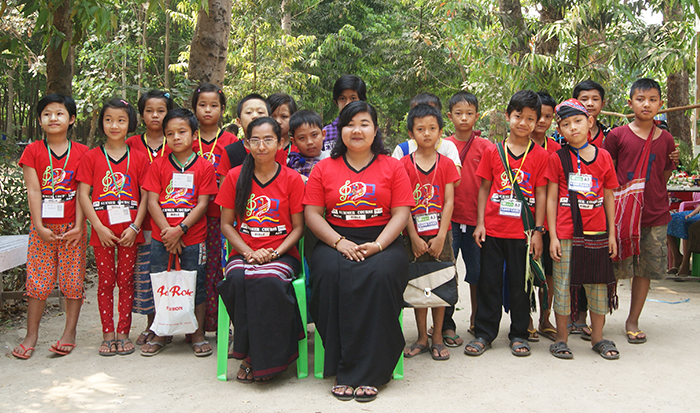 One of the English classes at St Peter's Bible School
ABM thanks the team at the Diocese of Taungoo for their initiative with using the Bible School facilities to run such activities for local students regardless of their religion.
Thank you to all our supporters who have generously donated to this project.
< Back