ABM Archive Website
THIS WEBSITE CONTAINS ARCHIVE MATERIALS FOR HISTORICAL REFERENCE ONLY
For up-to-date information, including our latest appeals, news, and resources, please visit our current website.
Myanmar: Evangelism and Christian Education update
July 2017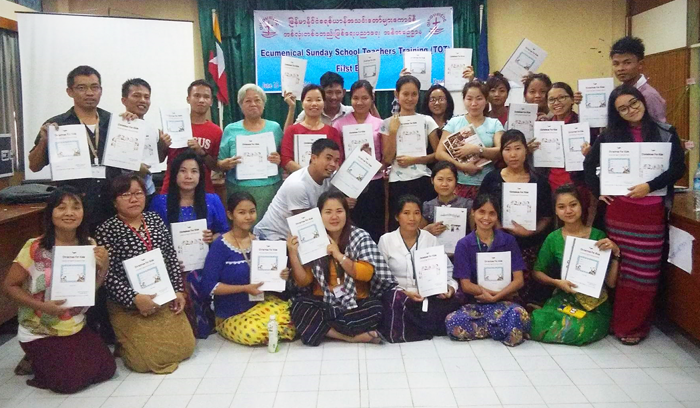 Participants of the CPM training seminar show the new Activity books that will be taught to children.


© CPM 2017.

Used with permission.
Books to benefit all churches
The Church of the Province of Myanmar (CPM) recently gave a report to ABM on the progress of the Evangelism and Christian Education project.
Work is well underway on the Children's Activity Books, which will include five lessons on various Biblical teachings or faith confessions. The first of these, "The Apostles' Creed", was produced earlier this year, in readiness for the Season of Trinity. Over 3,000 copies were printed and distributed to the 6 diocese in Myanmar, and was well received by all the Sunday school teachers and staff. Moreover, it was introduced by Dr. Khin Thida Nyunt to hundreds of college students at the Myanmar Institute of Christian Theology (MICT), and is now being widely used throughout Yangon in various church denominations.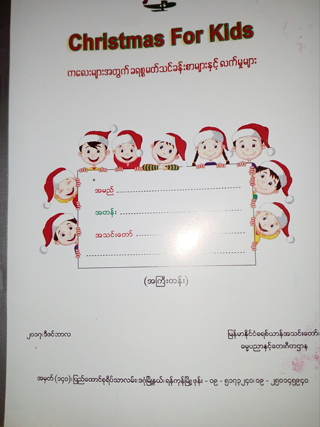 The newly developed Christmas Activity book.
© CPM 2017. Used with permission.
Two further Activity Book manuscripts have also been developed, and were introduced during the Myanmar Council of Churches (MCC) Sunday School Teachers' Training sessions, held in June and July this year. Around 30 participant from many different denominations attended, including Sunday School directors, teachers and Church superintendents. These manuscripts were titled, "The Season of Advent, Christmas and Epiphany" and "The Eight Blessings", and will soon available for use by everyone who has requested them.
The Evangelism and Christian Education project has also recently supported a one-day seminar for CPM staff, Provincial committees, and Diocesan Christian Education committees. The seminar equipped these leaders in children's education to prepare lessons and teach with the new Activity Books. Around 25 participants were involved, and the day was facilitated by Sayama Patricia, a lecturer from the Myanmar Institute of Christian Theology in Yangon.
ABM would like to thank the Church of the Province of Myanmar for all their hard work, equipping Sunday School teachers throughout the country with these excellent resources, and also our donors whose generosity provided the necessary funding.