ABM Archive Website
THIS WEBSITE CONTAINS ARCHIVE MATERIALS FOR HISTORICAL REFERENCE ONLY
For up-to-date information, including our latest appeals, news, and resources, please visit our current website.
Transportation Update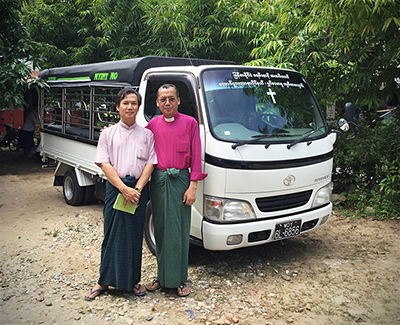 Bishop John Wilme and a student stand proudly with the new truck
July 2016
ABM is proud to announce that St. Peter's Bible School now has a reliable source of transportation, thanks to the generosity of our donors. A truck was recently purchased with ABM funding, and is being used to transport students and faculty to various parishes around the Toungoo Diocese, in order for them to minister.
Bishop John Wilme thanked ABM and prayed a blessing over the truck in a ceremony dedicating it to the service of ministry.
St. Peter's Bible School is a significant religious institution within Myanmar, surviving decades of war and disruption from social and political upheaval. Originally established in Yangon in 1893, it was moved to Toungoo Diocese in 1933, but closed several years later due to the outbreak of World War 2. Reopening in 1947, the school thrived until civil war engulfed the country in 1953. It was relocated to Hpa-an from 1963 until 1965 due to the fighting, and from there to Weargyi village and afterwards to Saw Sar Ko village, before finally being re-established in Toungoo during 1973. Since that time, the school has been faithfully training young adults for ministry, many of whom are now serving as clergy and diocesan staff throughout the five dioceses of Myanmar.
Last year, there were 28 students attending the school, with 6 graduating in March 2016. The number of enrolled students has grown substantially this year, with 40 now registered to either continue or begin their studies. These students are well looked after by 6 full-time faculty members and 10 part-time teaching staff, all overseen by Bishop John Wilme.
Bishop John Wilme dedicates the truck to ministry
The school offers a 4-year Licentiate of Theology course, a 2-year Certificate of Completion program, and also individual subject courses and clergy refresher courses, as needed. As part of these courses, the students are required to undertake field work in parishes throughout Toungoo Diocese, and often visit these parishes as a group. Before the truck was purchased, the students needed to travel on rented motorbikes, which was expensive, or take public transportation which was slow and unreliable. The new truck will assist their work tremendously, and enable parishes to receive the care and support they need from these dedicated students.
Bishop John wished to personally thank everyone who kindly donated funds towards this truck, expressing his appreciation on behalf of all the staff and students at St. Peter's Bible School. This thanks was echoed by our own Church to Church Coordinator, Wilnor Flores, who is delighted by the project success. She adds;
"I find it amazing that despite the chaos brought by the various wars, the ministry managed to go on – in so many different locations. God really works in marvellous ways!"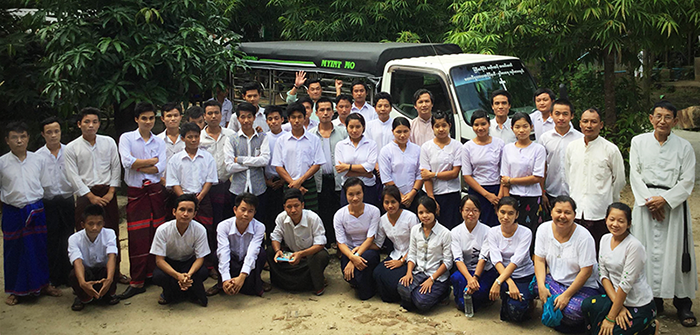 Staff and students at St. Peter's Bible School pose with the new truck
If you would like to donate toward the ongoing operations of the school, please click here.