ABM Archive Website
THIS WEBSITE CONTAINS ARCHIVE MATERIALS FOR HISTORICAL REFERENCE ONLY
For up-to-date information, including our latest appeals, news, and resources, please visit our current website.
Myanmar: Integrated Water, Sanitation and Hygiene Project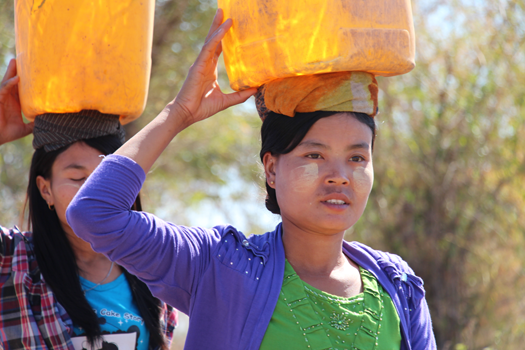 Women in Pyay Deanery carry containers after collecting water. © Brad Chapman/ABM, 2015.
This year we aim to build two tube wells and provide piped mountain water to a total of 774 people, and conduct hygiene and sanitation awareness raising seminars, leading to a reduction in water-borne disease amongst children and adults.
Lack of ready access to clean drinking water can have serious implications for people's health. For many years, ABM has placed a priority on helping communities to improve their access to clean water. Through ABM's partner, the (Anglican) Church in the province of Myanmar (CPM), our supporters have been assisting communities to become healthier. As people gain access to clean water they also learn about good hygiene and safe sanitation.
Communities also learn about how to care for the environment, about safer agricultural practices, and how projects can be used to increase women's participation and empowerment.
Last year, thanks to supporters like you, ABM funded construction of 3 gravity-fed water systems and three tube wells for 1,578 villagers in Yangon Mandalay, Sittwe, and Hpa-an. 31 year old Naw Jue May from Talokepin village in Central Myanmar, was one of the people to benefit from last year's project:
"Talokepin village is in a dry zone and the leaves fall in summer. So, in summer, when it gets very dry, the forest burns. We worried about fire every year. To prevent and fight fires, people used to carry water in buckets and pots from their respective homes. But this year we built a water tank donated by ABM. Now we easily receive water from the new tank located at our church. So, it is convenient to put out the fires.
"As a result of building the water tank, we have enough water for our work and church activities. We have the pure and clean water, for people and animals. We can use easily water for trainings and activities in our church."
Often we don't think of all the benefits of a water project such as this one, until we hear from the communities about what they learned during the process, and how much the project has changed their lives. 45 year old U Aung Win, also from Talokepin village, told us about how the project had taught him the value of re-afforestation and caring for the forests, and of the need to change from chemical to organic fertilisers so as not to pollute the water courses, and for the general health of the community.
This is one of the meanings of the word "integrated" – the water project is integrated with other training to increase village knowledge and capability in many related areas. Communities also use an approach to development that focusses on their own strengths, and on what they can do to improve their lives, rather than seeing development as something that comes from outside and can be less valued. This is called an "assets-based approach" (ABCD), which many of ABM's partners have embraced, including CPM.
Please consider supporting this project. MM001WS needs $50,000 in 2019 (tax-deductible)
Training workshops, typically conducted in the local church, cost $60, to train 20 people in 4 different topics: personal hygiene and sanitation, gender and environmental awareness, and agriculture.
$100 buys 2 basic fly-proof latrines.
$500 funds the fee of a professional water technician.
Construction of a tube well, which provides water for up to 225 people, costs $2,750.
HOW TO DONATE
You can make an online donation to this project.

Alternatively, for donations by cheque/money order (made out to the Anglican Board of Mission – Australia), telephone or email, view contact details here. Please don't forget to include the project name and/or code with your payment details.
Gifts to ABM will be applied to the support of project(s) selected. In the unlikely event of the project being oversubscribed or not proceeding to completion, donations will be applied to a similar project to the one(s) selected.