ABM Archive Website
THIS WEBSITE CONTAINS ARCHIVE MATERIALS FOR HISTORICAL REFERENCE ONLY
For up-to-date information, including our latest appeals, news, and resources, please visit our current website.
Myanmar: Organisational Development for Anglican Study and Research Centre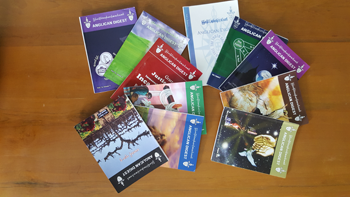 For theological education of clergy and lay this project will

help issue the Anglican Digest three times a year. ©CPM 2015.
This is part of the Church to Church Program: Learn more about ABM's Programs here.
Founded in 2012, the Anglican Study and Research Centre (ASRC) has been serving as a think-tank for the Church of the Province of Myanmar (CPM). In the course of the last four years, ASRC has contributed intellectually to CPM by producing research-based reports, articles and periodicals.
With the assistance of ASRC, CPM was able to respond to the Anglican Communion Office regarding the Anglican Communion Covenant. For theological education of clergy and lay people of CPM, ASRC has been issuing a periodical (Anglican Digest) three times a year.
In order to promote and preserve the performance of the ASRC, some organisational development is in dire need.
In spite of the long history of the presence and witness of the Anglican Church in Myanmar, dating back to 1825, there is a need to further define Myanmar Anglicanism. This is especially true in terms of the Myanmar Anglican Church's position in responding to the current emerging issues of other Provinces throughout the Anglican Communion.
By giving to this project you will be offering CPM a platform for theological educators, students, church leaders, and lay people to participate in theological workshops and seminars on issues related to Myanmar Anglicanism.
MM011TR needs $8,400 in 2016 (non tax-deductible)
HOW TO DONATE
You can make an online donation to this project by selecting Myanmar: Org. Dev. for Anglican Sudy & Research from the full project list.
Alternatively, for donations by cheque/money order (made out to the Anglican Board of Mission – Australia), telephone or email, view contact details here. Please don't forget to include the project name and/or code with your payment details.
Gifts to ABM will be applied to the support of project(s) selected. In the unlikely event of the project being oversubscribed or not proceeding to completion, donations will be applied to a similar project to the one(s) selected.
PROJECT UPDATE
July 2016 – The Director of the Anglican Study and Research Centre, Rev'd Dr Paul Myint Htet Htin Ya, recently updated ABM on the good work being done to strengthen the organisational capacity and effectiveness of the centre. Read more
< Back