ABM Archive Website
THIS WEBSITE CONTAINS ARCHIVE MATERIALS FOR HISTORICAL REFERENCE ONLY
For up-to-date information, including our latest appeals, news, and resources, please visit our current website.
Myanmar: Producing Textbooks for Discipleship Trainings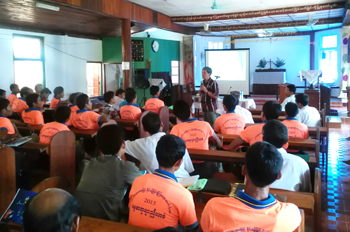 Evangelism and Mission Seminar held in the Diocese of Sittwe
in May 2015. © CPM 2015
This is part of the Church to Church Program: Learn more about ABM's Programs here.
Evangelism and Mission seminars have been held for clergy and catechists throughout 2015 and over 200 people have participated.
The feedback from the participants was extremely positive but it was felt the seminars would be improved by the production of textbooks or handbooks. Without handbooks the participants could not remember the entire lectures.
The Evangelism and Mission committee members have approached ABM to fund these handbooks to strengthen their seminar delivery.
They hope to produce five handbooks to give to the participants during the seminars covering: The Way to Discipleship; You and Christian Stewardship; Mission and Discipleship; Footsteps of Jesus; and Church Mobilisation.
Your support of this project will strengthen the training of clergy and catechists in Myanmar.
MM010UR needs $10,590 in 2016 (non tax-deductible)
HOW TO DONATE
You can make an online donation to this project by selecting Myanmar: Textbooks for Discipleship Trainings from the full project list.
Alternatively, for donations by cheque/money order (made out to the Anglican Board of Mission – Australia), telephone or email, view contact details here. Please don't forget to include the project name and/or code with your payment details.
Gifts to ABM will be applied to the support of project(s) selected. In the unlikely event of the project being oversubscribed or not proceeding to completion, donations will be applied to a similar project to the one(s) selected.
Project Update
December 2016 – The Church in the Province of Myanmar (CPM) has this month reported that two of the five handbooks have now been produced. Read more.
< Back