ABM Archive Website
THIS WEBSITE CONTAINS ARCHIVE MATERIALS FOR HISTORICAL REFERENCE ONLY
For up-to-date information, including our latest appeals, news, and resources, please visit our current website.
Myanmar: Integrated Water, Sanitation & Health (WASH) Project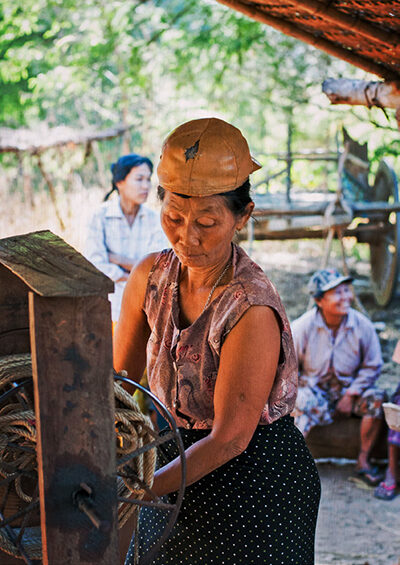 A woman fetches water from a new well in Myi Ni Gone village.
© ABM/Ivy Wang 2017.
Kyo Kyar and Myi Ni Gone are fairly
typical of villages in Myanmar.
Sitting relatively close together in the Diocese of Yangon, the villages are marked by patches of bare earth amongst the fertile fields, dotted with dwellings made of straw and timber. Chickens scoot here and there, avoiding the quick feet of small children, while
pigs stare from the ends of their
tethering posts.
It is peaceful here, with the cares of the hectic modern world far away. But these communities are also struggling with basic necessities. When the Church of
the Province of Myanmar (CPM) first came to this area, there were few sources of clean water. These two villages were using unprotected wells for their daily needs, shallow pools that would often become contaminated with animal manure, insects and washing detergent.
When the church agreed to support a Water and Sanitation project initiated by both communities, the people were delighted. Work quickly got underway. With funding from ABM and labour from the villagers, CPM organised the materials and the construction of four deep tube wells and 17 latrines. When the projects were finished, ABM was
invited to visit to see the work and join in the celebrations.
During a visit in 2017, the ABM Asia Programs Coordinator, Lina Magallanes, and ABM Finance Manager, Ivy Wang were impressed to see the difference the new facilities had made, not just in terms of improved health and convenience, but also in the attitudes of the people. The villagers beamed with pride and were eager to discuss more Integrated Water, Sanitation & Hygiene (WASH) Project improvements that could be made in their communities.
Lina said,"It was wonderful to be there and see the work for ourselves, to see what a difference it has made to everyone's health and wellbeing."
Arguably the most important aspect of this work continued after the visit – the education of these
communities on proper sanitation practices. This knowledge is essential in helping to reduce and eradicate many diseases present in the area such as chronic diarrhoea.
It is stories like these that make the Myanmar (WASH) project such a success. Your contributions ensure villages like Kyo Kyar and Myi Ni Gone receive safe drinking water, sanitation facilities, and vital sanitation education throughout Myanmar.
MM001WS needs $55,000 in 2018 (tax-deductible)
HOW TO DONATE
You can make an online donation to this project.

Alternatively, for donations by cheque/money order (made out to the Anglican Board of Mission – Australia), telephone or email, view contact details here. Please don't forget to include the project name and/or code with your payment details.
Gifts to ABM will be applied to the support of project(s) selected. In the unlikely event of the project being oversubscribed or not proceeding to completion, donations will be applied to a similar project to the one(s) selected.
< Back