ABM Archive Website
THIS WEBSITE CONTAINS ARCHIVE MATERIALS FOR HISTORICAL REFERENCE ONLY
For up-to-date information, including our latest appeals, news, and resources, please visit our current website.
Water and Sanitation Update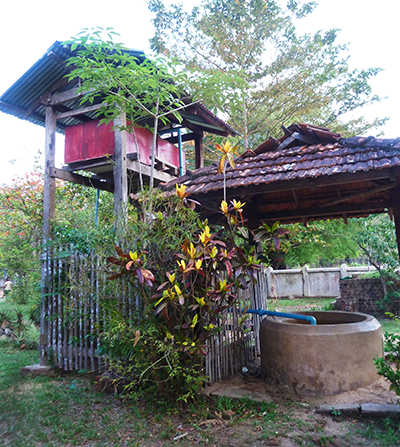 Water systems such as this are now standing proudly in Sittwe Diocese
July 2016
ABM is pleased to report that the Shwe Lei Vum and Lat Pan Kaing villages have now completed their projects, with the new water system piping fresh, clean water to both of these communities.
And due to funding received by our generous ABM supporters, an additional village of Kian Va was also able to implement a similar project in the Sittwe Diocese. This brings the total number of people assisted to over one thousand.
The villages all began their water projects with the formation of a community working committee, an essential step in organising the work. Basic training on sustainable development was provided to this group by the Church of the Province of Myanmar (CPM), along with training in the technical and logistical aspects of constructing a water system. This equipped the committees to confidently manage the project, ensuring that the water system would be constructed well, and that any future repairs would be swiftly completed.
When the building materials arrived at each site, the committees had ready help from their respective communities in digging the trenches, laying the pipes, and pouring concrete for the three water tanks. In fact, all the labour needed for this project was provided by the villagers, who were grateful for this opportunity to have water piped to their villages from up to 3.4 kilometres away. This means a huge saving of time and effort in collecting water, enabling other tasks to be completed, including studying and earning an income.
All the projects are now complete, and everyone is reportedly delighted with this fresh, clean and convenient water. The committees have also received training on good personal hygiene habits by the CPM Diocesan Health worker. This training will now be replicated in the villages by the committees, who will continue to encourage everyone to practice what they have been taught.
ABM would like to thank everyone who gave so generously to this project. It has made a tangible difference to the lives of everyone in the Shwe Lei Vum, Lat Pan Kaing and Kian Va villages, enabling a brighter, healthier future for generations to come.