ABM Archive Website
THIS WEBSITE CONTAINS ARCHIVE MATERIALS FOR HISTORICAL REFERENCE ONLY
For up-to-date information, including our latest appeals, news, and resources, please visit our current website.
Myanmar Church Capacity Building
October 2016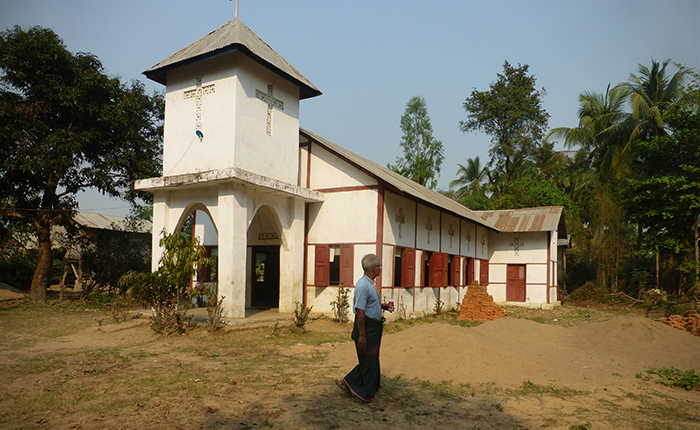 A worker passes by a typical church building in Myanmar.

© Lina Magallanes/ABM, 2016
The Church of the Province of Myanmar (CPM) has made impressive gains over the last year in this area of institutional capacity building, in order to deliver sustainable development initiatives.
At the forefront is the Provincial Development Desk, the department of the church responsible for community development projects such as Water and Sanitation infrastructure, which has undergone a transformation.
This was in response to an increasingly unworkable situation, in which five overseas organisations were partnering with the CPM for separate projects, each having their own set of paperwork and requirements to be fulfilled. With a limited staff available for such intense administration, a solution was needed to streamline project management.
A dedicated Steering Committee was formed as a result, arising from discussions and support provided by ABM and other partners through the Church Capacity Building project. All five partner organisations, including ABM, were invited by the CPM to attend.
During the three meetings held so far in 2016, the issue of multiple reporting requirements and differing levels of compliance amongst partners was discussed in detail. A common set of templates for narrative and financial reporting was drafted and agreed upon by all parties, and will come into effect during October 2016. This was an obvious relief to the Provincial Development Desk staff, who will now only need to concentrate on one administrative process for all five partners, saving a significant amount of time that can be used on project implementation.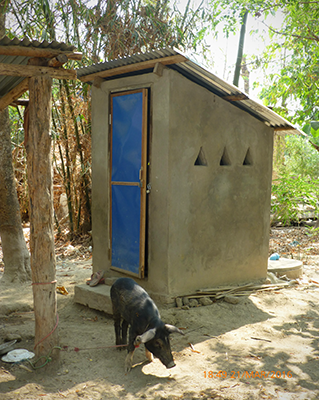 A Ventilation Improved Pit toilet in Myanmar.
© Lina Magallanes/ABM, 2016
Another advantage of these Steering Committee meetings is the ability to discuss various "cross-cutting" issues, such as gender equality. The term cross-cutting is used because these issues relate to all projects that are implemented. For example, in a Water and Sanitation infrastructure project, ensuring women are included in the community governance groups that manage the new toilets and water tanks will contribute to equal and safe access by both sexes, allowing various issues of facility placement and management to be considered.
These issues are discussed openly in the meetings between CPM staff and their partners, helping to form consensus on best-practise for gender equality, disability inclusion, and child protection, to name but a few.
ABM is proud to be partnering with the hardworking and dedicated staff within the CPM, and looks forward to journeying with them toward greater effectiveness and, ultimately, self-sustainability. We would also like to thank our supporters and the Australian Government for the funding that makes this project possible.