ABM Archive Website
THIS WEBSITE CONTAINS ARCHIVE MATERIALS FOR HISTORICAL REFERENCE ONLY
For up-to-date information, including our latest appeals, news, and resources, please visit our current website.
Encounter Program – Partner Training in Australia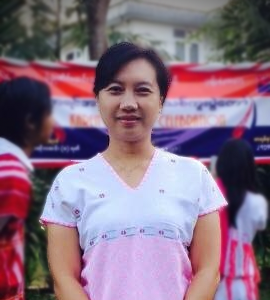 Nant Hnin Hnin Aye (Snow White).
Used with permission

When our days there were ended, we left and proceeded on our journey; and all of them, with wives and children, escorted us outside the city. There we knelt down on the beach and prayed and said farewell to one another. Then we went on board the ship, and they returned home.
– Acts of the Apostles, 20.5-6
ABM's Encounter Program aims to facilitate two-way learning between a visitor from an overseas partner Anglican Church and the Australian church communities they visit.
One of the best ways of learning about Anglicans from overseas is by meeting them in person. ABM's Encounter Program is a way in which Australian Anglicans can do just that. It's designed to provide two-way learning and understanding by allowing specially-chosen people from among ABM's Overseas Partners to come to Australia. While they are here, they can work on their own learning goals and, atthe same time, can help Australian Anglicans to learn what it's like to be an Anglican somewhere else in the world. Currently under this program, ABM is hosting Nant Hnin Hnin Aye (Snow), a lecturer from Holy Cross Seminary in Yangon, Myanmar. She is studying for a PhD in New Testament at Trinity College in Melbourne.
In previous years ABM's Encounter Program has facilitated visitors from the Anglican Church of Papua New Guinea and the Anglican Church of Melanesia. They have been able to upgrade their skills in areas such as school chaplaincy and the provision of pastoral support to seafarers. And local Australian Anglicans have learnt a little of what it is like to minister in a Melanesian context.
In future we hope to broaden this program to include different kinds of visits. Such as the recent visit to Australia by the Anglican Church of Papua New Guinea's Archbishop Allan Migi. Archbishop Migi was able to share about the church in PNG, as well as learn more about the Australian Anglican Church, especially its theological training. At the same time, he was able to assist ABM to raise awareness about and funds for the work we are doing in PNG.
Encounter can be about sharing each other's stories. But it can also be about people who are experts in things like Climate Change in Melanesia coming to the Australian church to help us gain greater insights into this contemporary problem. Or someone who has worked in an interfaith context in Africa or South East Asia coming to share experiences with an Australian parish that may be also working in a similar context.
Encounters are key to our faith. In the Acts of the Apostles we read of the apostles' encounters with a variety of people. After the encounter, all are changed.
We encourage you to give generously to this program, and who knows? You may find yourself being part of such an Encounter one day.
AU012EP needs $15,000 in 2019 (non tax-deductible)
A typical airfare for a visitor to Australia from the Pacific costs around $1,500.
HOW TO DONATE
You can make an online donation to this project.

Alternatively, for donations by cheque/money order (made out to the Anglican Board of Mission – Australia), telephone or email, view contact details here. Please don't forget to include the project name and/or code with your payment details.
Gifts to ABM will be applied to the support of project(s) selected. In the unlikely event of the project being oversubscribed or not proceeding to completion, donations will be applied to a similar project to the one(s) selected.