ABM Archive Website
THIS WEBSITE CONTAINS ARCHIVE MATERIALS FOR HISTORICAL REFERENCE ONLY
For up-to-date information, including our latest appeals, news, and resources, please visit our current website.
2015 The Encounter Program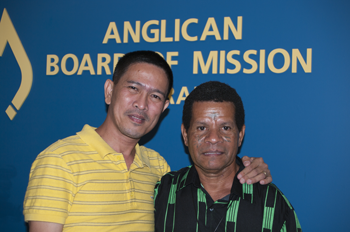 PARTNER CLERGY TRAINING IN AUSTRALIA
The Encounter program allows ABM to bring clergy from its partner churches to Australia for mutual learning.
ABM helps the Australian parish to devise a program which transforms and enriches both the parish and the visitor, who is able to experience Australian and Anglican life.
Fr Grayson Elea from Popondotta Diocese in PNG visited Rockhampton Diocese as an Encounter Visitor. He arrived in Australia just prior to the Christmas celebrations for a two-month visit.
Fr Grayson preached to congregations and in fact preached for the first time in Australia at St John's South Sea Islander Church on Christmas Day.
He also visited the North Rockhampton Nursing Home and a number of households as part of the pastoral visiting program and the feedback received by the Diocese was very positive.
Fr Luke Foai from the Solomon Islands, visited Western Australia and spent time with Mission to Seafarers.
Norm Stevens from Mission to Seafarers in Albany said, "Here in Albany Luke was hosted by Living Waters Church and the Rev Bill Byleveld and Luke spent his time here at the Mission. He spent a number of weeks with us to see what the workings of the Mission are like. I took him on board to meet the crew and he assisted with Foreign Exchange monies, phone cards and logistics, plus he came with me when I took Seafarers shopping and on outings."
"Rev Bill or his wife, Helen would bring Luke to our Saturday morning Holy Communion Service each week. Luke and I went on board at Christmas to distribute gifts to Seafarers – he was a real asset to the Mission and to me. Luke is especially good interacting with the Seafarers," Mr Stevens said.
The Encounter Program needs $13,200 in 2015 which will allow ABM to support more visitors like Fr Luke and Fr Grayson.
AU012EP – The Encounter Program needs $13,200 in 2015 (non tax-deductible)
HOW TO DONATE
You can make an online donation to this project by selecting ABM Encounter Program from the full project list.
Alternatively, for donations by cheque/money order (made out to the Anglican Board of Mission – Australia), telephone or email, view contact details here. Please don't forget to include the project name and/or code with your payment details.