ABM Archive Website
THIS WEBSITE CONTAINS ARCHIVE MATERIALS FOR HISTORICAL REFERENCE ONLY
For up-to-date information, including our latest appeals, news, and resources, please visit our current website.
2016 The Encounter Program
This is part of the Church to Church Program:
Learn more about ABM's Programs here.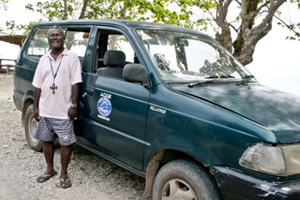 Fr Hilary Anisi learnt from visiting Mission to Seafarers
in Australia. © Vivienne For/ABM, 2013.
In recent years, ABM has supported many visitors from partner countries to visit Australia.Partner Clergy Training in Australia
Fr Grayson Elea from Popondotta Diocese in PNG visited Rockhampton Diocese for a two-month visit. Also Fr Luke Foai from the Solomon Islands visited Western Australia and spent time with Mission to Seafarers.
Fr Hilary Anisi also from the Mission to Seafarers in the Solomon Islands visited Australia back in 2008. Many years on he still talks of the inspiring visit and how he learnt so much.
He said, "I really learnt how to run and administer a centre whilst on the Encounter program, and the importance of hospitality and I've tried to implement that here in Honiara."
Fr Hilary spent time in Tasmania and Gladstone learning from Mission to Seafarer Chaplains. He returned and established a Centre for Mission to Seafarers in the Solomon Islands which offers hospitality, pastoral care and a safe place for international and national seafarers.
The Encounter Program allows ABM to bring clergy from its partner churches to Australia for mutual learning. ABM helps the Australian parish to devise a program which transforms and enriches both the parish and the visitor, who is able to experience Australian and Anglican life.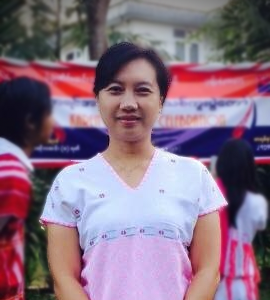 Snow, Recipient of the Sponsorship Program 2016
Doctorate Sponsorship Program in Australia
ABM is also supporting a postgraduate scholarship at Trinity College in Melbourne, as part of the Encounter Program. In partnership with the Church in the Province of Myanmar, ABM is delighted that Nant Hnin Hnin Aye (Snow is her English name) will be the first recipient of the scholarship.
Snow will study for a Doctorate in Theology, specifically looking at how Jesus redefined the social and cultural norms of his day, as described in Luke's gospel. Given Myanmar's particular political context, she will focus on the application of Jesus' teachings to the reality of marginalised groups in Myanmar today. Snow is hoping to be a role model and set a trend for Anglican women theologians in Myanmar.
To read more of Snow's story, please click here.
Please continue to support the Encounter Program so that ABM can offer these learning opportunities to its partners.
AU012EP needs $18,000 in 2016 (non tax-deductible)
HOW TO DONATE
You can make an online donation to this project by selecting ABM Encounter Program from the full project list.
Alternatively, for donations by cheque/money order (made out to the Anglican Board of Mission – Australia), telephone or email, view contact details here. Please don't forget to include the project name and/or code with your payment details.
Gifts to ABM will be applied to the support of project(s) selected. In the unlikely event of the project being oversubscribed or not proceeding to completion, donations will be applied to a similar project to the one(s) selected.
PROGRAM UPDATE
November 2016 – Snow has sent an update on her progress at Trinity College, sharing the experiences she has had so far. Read more.
October 2016 – The Encounter Program also enables Australian clergy to visit overseas partners, as Fr Graeme Weaver discovered. On the 28th July 2016, he departed Western Australia for the Philippines on a self-funded visit. Fr Graeme spent four weeks in the Diocese of the Northern Philippines, and wrote of this remarkable experience. Read more.