ABM Archive Website
THIS WEBSITE CONTAINS ARCHIVE MATERIALS FOR HISTORICAL REFERENCE ONLY
For up-to-date information, including our latest appeals, news, and resources, please visit our current website.
Australia: Encounter Program update
May 2017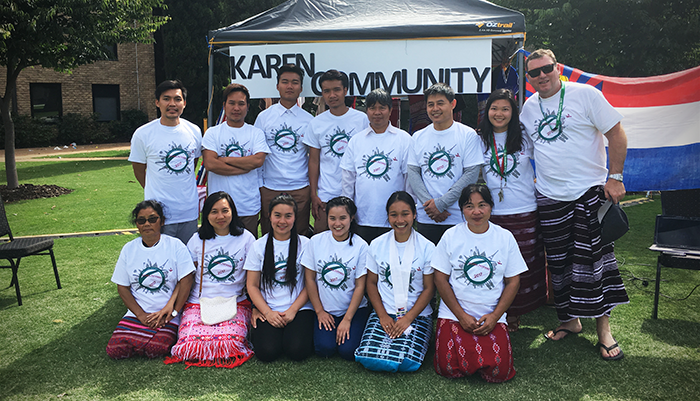 Snow (seated second from the left) with the Karen Community during the Trinity College multicultural event.
©

Nant Hnin Hnin Aye

, 2017.
Snow recently gave an update on her progress at Trinity College, sharing some of the joys and challenges of her time in Australia so far.
"I had a wonderful experience of the traditional Anglican services during the Holy Week, at Trinity College Chapel in Melbourne. It gave me a new experience, and a feeling of wonder and awe amongst the Western tradition… I also took more time in self-reflection and meditation, to defeat my feelings of homesickness during this time. (At home in Myanmar, Easter is a big community celebration.)
"During the last week of March, we had a multicultural event at Trinity College, organised by Trinity College Foundation Studies. Students from India, Sri Lanka, Pakistan, China, Vietnam, Indonesia, Malaysia, Myanmar and Australia all took part in running the event, to celebrate the theme of community and diversity. As I am from the 'Karen' tribe of Myanmar, I helped at the Karen community stall, along with other Karen students from the Trinity Theological school.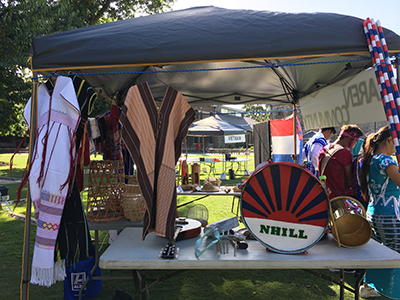 The Karen community stall with cultural artifacts.

©

Nant Hnin Hnin Aye

, 2017
"Around 250 students from North Melbourne Primary school came on the day, from Years 4, 5 and 6. The kids enjoyed exploring Karen culture, and seeing the musical instruments, dances, and items on display. It was a great day for both of the kids and the Karen students, with the joy of sharing and learning experiences.
"I am trying my best to finish my proposal and one exegesis chapter to be ready to submit on June. I want my Thesis to be relevant and useful to the Anglican Church in Myanmar. My focus is a post-colonial Anglican Myanmar study of Jesus' mission and identity in some Matthew texts. This Thesis is a product of postcolonial Myanmar and has undergone different kinds of hardships due to the colonial, the imperial power and neo-colonial power dynamics.
"The method (Post-colonial perspective) I am going to use is new for me, so that I am having difficulties with that. My supervisors help me for that part, however.
Sometime I don't know how to continue my writing, and it would be so easy to give up. But I encourage myself that this is all for my community, for the Anglican Church in Myanmar. So I push myself to keep moving and go forward.
"I have already bought a new laptop. Thank you so much for ABM's support, which meant that I can manage to buy a new one in a short time and with no difficulty.
Please remember my studies in your daily prayers.
God Bless you and your ministry.
Sincerely,
Snow
ABM would like to sincerely thank everyone who has supported Snow in her studies so far, both financially and through prayer. Your kindness is making the opportunity for higher learning available to this remarkable young women, the impact of which will no doubt be felt in both Myanmar and Australia for decades to come. As Snow is doing a 3-year Doctorate Program, further funding to help with her future tuition fees would be very much appreciated!