ABM Archive Website
THIS WEBSITE CONTAINS ARCHIVE MATERIALS FOR HISTORICAL REFERENCE ONLY
For up-to-date information, including our latest appeals, news, and resources, please visit our current website.
Encounter Program update
November 2016
The following email was sent by Snow to the ABM Encounter Program Coordinator, Wilnor Flores. Snow provides an update on her progress at Trinity College, sharing the experiences she has had so far.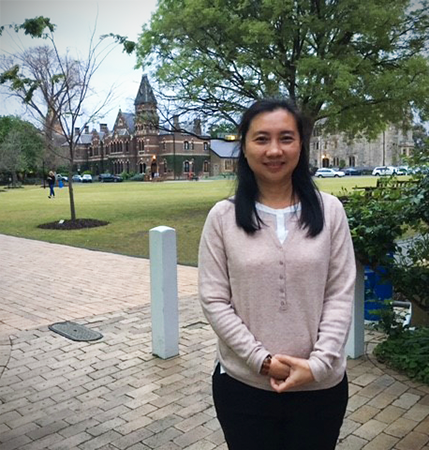 Snow stands outside Trinity Theological College in Melbourne, October 2016
Dear Wilnor,
Good morning. I took a while to reply your email because I do not have a proper picture of myself with Trinity College. Here are two pictures, one of Trinity College and myself, the other a multicultural club from the Foundational course I took.
Here is an update on my progress so far;
Project Thesis
I'm changing my Thesis topic from social praxis using the Gospels (previous one) to relating Biblical studies with the local church (in Myanmar). My focus will be on the area of lay ministry towards inclusive Ecclesiology. My purpose for doing this topic is reflecting the existence of the Church of the Province of Myanmar (CPM) in context and the reconstruction of the nature of ministry from a biblical perspective. I can give more concrete information over the coming two months.
Spiritual and Social
I come from a traditional Anglican background, so worshipping at Trinity College makes me feel at home, although slightly different. I have learned the nature of Anglican diversity within the Melbourne Anglican community. I'm enjoying meeting new people in college groups like the Multicultural Club (picture below).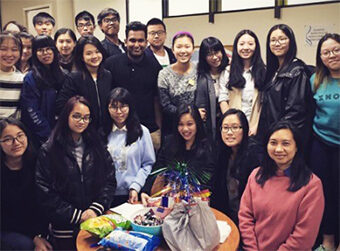 Snow (seated at far right) poses with multicultural club
members in Melbourne.

Financial
I have learned that my scholarship is provided by three groups of donors; Trinity Theological College, Trinity Residential College and ABM. Trinity is provided accommodation and meals, whilst ABM supports my school and tuition fees. Before I came to Melbourne, I had to buy health insurance on a Student Visa and an air ticket, which I had received partial support from CPM and Holy Cross College. These amount are beyond my effort but thank God that family and institutions have helped me to get through.
I thank God for this opportunity to be able to study in Australia.
Sincerely,
Snow
ABM would like to sincerely thank everyone who has supported Snow in her doctorate studies thus far. If you would like to contribute toward future expenses, please click the link below and follow the prompts.