ABM Archive Website
THIS WEBSITE CONTAINS ARCHIVE MATERIALS FOR HISTORICAL REFERENCE ONLY
For up-to-date information, including our latest appeals, news, and resources, please visit our current website.
Papua New Guinea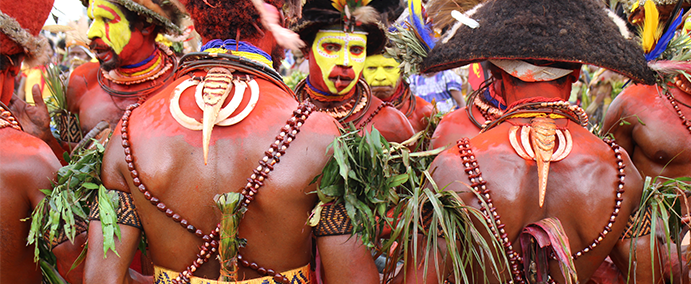 Goroka Festival. © Ivy Wang/ABM 2017.

Papua New Guinea is one of the most culturally diverse countries in the world.
Over 800 languages are spoken throughout the islands, and the national population of 8 million are comprised from over 1,000 distinct ethnic groups.
Since 2000, the country has experienced strong economic growth due to a boom in the minerals and energy extraction sector, which accounts for the majority of export earnings and Gross Domestic Product. However, translating this revenue into strong, tangible improvements in living standards for all Papua New Guineans has been a challenge.
According to the World Bank, the average Gross National Income in PNG is just $2,160 per person, with an overwhelming 39.3% of the population living below the income poverty line (PPP $1.90 a day). Essential services such as healthcare and education are limited, especially in the rural and remote areas of the highlands. The national adult literacy rate (ages 15 and over) is currently 64.2%, with just 4.3 years of schooling completed by each person, on average.
ABM has had a long relationship with the Anglican Church of PNG (ACPNG) to address many of these challenges.
Beginning in 1885, Australian missionaries were first sent to support the church in delivering its mandate, before ABM adopted a partnership model with ACPNG to empower local, community-based development. Today, ABM works with both the church and Anglicare PNG, the social and development arm of ACPNG.
The Anglican Province of PNG is made up of five dioceses – Aipo Rongo, Dogura, New Guinea Islands, Popondota and Port Moresby. Around 3% of Papua New Guineans identify themselves as Anglican, although in some provinces such as Oro, this figure is as high as 60%.
The current focus of the partnership is on building church capacity to serve church communities in the area of faith, and rural communities in the areas of education and disaster management. We invite you to partner with us in this important work, to ensure that every Papua New Guinean will live a full and satisfying life.
2021 projects in papua new guinea

Emergency Response
Anglican Church prepared to respond to emergencies

Clean Water and Combatting Vaccine Hesitancy in PNG
PNG Earthquake Emergency Response (2018)
Other emergency news may be found here.

Stories from the Field
A Trip to Gona, June 2018 – Archbishop Jeffrey Driver
shares his interesting account of a trip to Gona, visiting
the site of the original church and the resting place of Fr
James Benson. Read more



Following the Way (2010 Papua New Guinea Documentary)
This 40 minute documentary made by filmmaker Steve Ramsden (son of the former Bishop of Port Moresby, Peter Ramsden and his wife Sue Ramsden) gives an informative introduction to the Anglican Church of Papua New Guinea and to PNG in general. The viewer is taken on a journey around the country, visiting all five dioceses of the Church where the stories of many people can be heard, stories which are still relevant today.
Reference for main text:
---