ABM Archive Website
THIS WEBSITE CONTAINS ARCHIVE MATERIALS FOR HISTORICAL REFERENCE ONLY
For up-to-date information, including our latest appeals, news, and resources, please visit our current website.
Update: Kerina College student Enrichment Project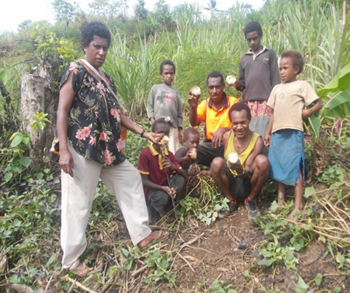 Students and family showing their crops at Kerina.© ACPNG
Out of the AUD10,000 (equivalent to K20,000) funds that ABM has sent in support of the Student Enrichment project at Kerina College, K11,000 has already been used for the outreach and women's program. The remaining K9,000 was intended to be used for another outreach next year.
However, due to the very dry weather Papua New Guinea has been experiencing in many parts of the country, Kerina College made an urgent request to use K2,000 out of the K9,000 remaining to buy urgent food supplies for the students and their families so that they can go on outreach.
Meagan Schwarz, ABM's PNG Program Coordinator, has told us, "Hopefully when Fr Newton and the Principal Fr Peter return to Hagen in 3 weeks, they will be able to report fully on activities."
Here is a brief situation report provided by Meagan:
WATER AND FOOD SITUATION
No water flowing at Kerina:
Rain water tanks dry and piped water from small dam stopped
Students and staff are fetching water from the nearby creeks
Creek water is not safe to drink
The creek levels has been decreasing gradually
Gardens have no or very little food:
Students are eating coconut and foraging for bush food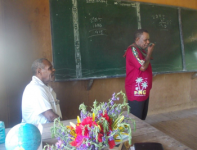 In class at Kerina Evangelists'
College. © ACPNG
The Rev Newton Ekoda, a lecturer at Kerina College, reported last month that the College program has altered a bit with morning classes as usual, but from 2pm students are given time to fend for their families.
He said, "The eighty-nine of the college community includes; babies, young children, school-aged children, young adults, adults and parents. Most families are having only a meal each day and the babies, young children and school-aged are already suffering because of food shortage and water problem.
"The two committed staff members are doing everything in their capacity to keep the college going even without allowance and administrative grant until the college academic year ends. Yes! They too, are badly affected and need urgent attention from the authorities and genuine donors.
"Prayer is very much needed for courage and strength as well as wisdom to endure in this trying time."
Thank you for your support and we ask you to please pray for all at Kerina Evangelists' College.