ABM Archive Website
THIS WEBSITE CONTAINS ARCHIVE MATERIALS FOR HISTORICAL REFERENCE ONLY
For up-to-date information, including our latest appeals, news, and resources, please visit our current website.
Papua New Guinea: ACPNG Church Capacity Building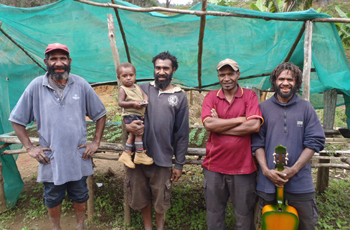 The Fikombaru nutrition project team.
© ABM/Meagan Morrison, 2014.
The Capacity Building Program aims to contribute to PNG development and social stability by working through the local churches and their communities.
Meagan Morrison, ABM's PNG Program Coordinator and Partner Liaison, said, "The program is about having the community themselves respond to their own needs without having to call in others. They don't have to look elsewhere for assistance but can build their own. This project is about getting communities to a point where they don't need external support. They can build on their own strengths and make sure everyone can participate in their own communities – it's a strengths-based approach."
In 2015 the program is planning training sessions for both church and community groups who are in a position to apply for funding from local government in PNG or other organisations but may not have the skills or resources to apply. These training sessions will teach the local people how to write a successful application and highlight the resources needed to ensure a sustainable future.
This resourcing of church and community groups to gain funding will then filter through to community development and more local benefits.
Activities conducted by the Anglican Church using this funding attempt to use existing church resources and infrastructure. The remote location of many of these communities does mean that the cost of communications and transport are high compared to conducting activities in urban areas.
Your support will allow this local training to continue to ensure sustainability in PNG. This project is tax deductible.
PG020IF – ACPNG Church Capacity Building needs $110,000 in 2015
HOW TO DONATE
You can make an online donation to this project by selecting PNG: ACPNG Church Capacity Building from the full project list.
Alternatively, for donations by cheque/money order (made out to the Anglican Board of Mission – Australia), telephone or email, view contact details here. Please don't forget to include the project name and/or code with your payment details.