ABM Archive Website
THIS WEBSITE CONTAINS ARCHIVE MATERIALS FOR HISTORICAL REFERENCE ONLY
For up-to-date information, including our latest appeals, news, and resources, please visit our current website.
Update for PNG Capacity Building
The Anglican Church of PNG (ACPNG) works with local communities to provide services to men, women and children living in rural and remote areas of PNG. Developing strong, healthy, united and empowered communities is one of the goals of ACPNG.
These are some of the activities which have taken place in 2014 to build the Church's capacity to effectively deliver these services.
Popondota Diocese
In February 2014, Meagan Morrison, PNG Program Coordinator and Partner Liaison Officer, met with representatives from Popondota Diocese to discuss and learn about ways to strengthen their work with rural, remote and marginalised communities across Oro Province. They explored 5 principles for effective development, the strengths based approach to community development and identified the key strengths and resources of the Diocese and what are some of the major issues facing their people.
ACPNG currently works in some of the most remote parts of Oro Province where there are no government services, providing much needed, but still basic, health, education and pastoral support for these communities.
With the support of ABM, the Church is seeking to work with these communities to address the high levels of illiteracy in the adult population, tackle the growing drug and alcohol problems, especially among young men, and to further improve health and education services.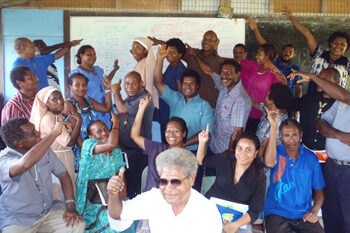 Group work results in Popondota Diocese workshop.

Port Moresby Diocese
In April this year, the development team of Diocesan officers from ACPNG met in Port Moresby to plan their activities – adult literacy, gender empowerment, life skills and HIV prevention. The activities will be funded by ABM through the Church Partnership Program (CPP). The CPP is an Australian Aid program working with 7 mainline churches in PNG to improve the lives of people living in rural and marginalised communities across PNG.
Meagan Morrison and Jeffrey Kaka, Anglican CPP Coordinator, led this planning meeting. By sharing their achievements and challenges from the past year's work, and working together on their joint programs, the officers were able to learn from and support each other. The team also received training on budgeting, financial acquitting and reporting.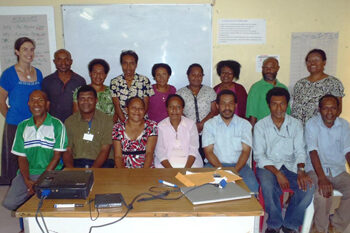 ACPNG Planning Meeting in Port Moresby including Meagan
(back left), Jeffrey (front second right) and former CPP
Coordinator, Betty Gali (front third left).

Dogura Diocese
ABM supports ACPNG Diocesan staff like Rachael Inuwai and Constance Mogina who implement community development activities funded by the Australian Department of Foreign Affairs and Trade (DFAT) through CPP.
Jeffrey and Meagan were in Dogura for a monitoring visit in June and spent time with Constance and Rachael. In addition to funding specific activities, ABM also provides support to build the capacity of ACPNG staff to plan and implement quality programs that build on existing resources within a community to address social and other issues like HIV, gender-based violence and poverty.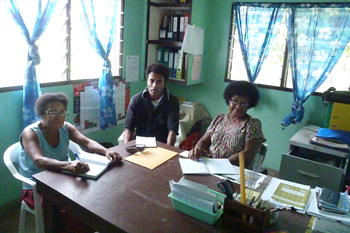 Rachael, Jeffrey and Constance hard at work planning adult
literary classes and HIV prevention activities in Dogura Diocese.