ABM Archive Website
THIS WEBSITE CONTAINS ARCHIVE MATERIALS FOR HISTORICAL REFERENCE ONLY
For up-to-date information, including our latest appeals, news, and resources, please visit our current website.
Papua New Guinea: Archdeacon Training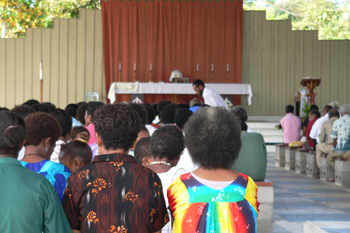 Parishioners in a church in PNG. © ABM/Brad Chapman 2007
Popondota Diocese has ten Deaneries and Archdeacons, all of whom have been selected to be trained for a month to better carry out their duties to assist the Diocese in providing pastoral care to each priest within its Deanery.
This project will see clergymen in each deanery brought together to attend retreats and have clergy training conducted by the Diocesan Bishop, retired Bishops and Archdeacons. This will be done so that the clergymen may truly serve God and His people and proclaim His Kingdom.
The project aims to allow both Archdeacons and Priests to do their pastoral work effectively so that parishioners will respond positively in their Christian faith and ultimately build the faith of the Anglican Church in PNG.
PG016TE- Archdeacon Training needs $14,130 in 2015 (non tax-deductible)
HOW TO DONATE
You can make an online donation to this project by selecting PNG: Archdeacon Training from the full project list.
Alternatively, for donations by cheque/money order (made out to the Anglican Board of Mission – Australia), telephone or email, view contact details here. Please don't forget to include the project name and/or code with your payment details.