ABM Archive Website
THIS WEBSITE CONTAINS ARCHIVE MATERIALS FOR HISTORICAL REFERENCE ONLY
For up-to-date information, including our latest appeals, news, and resources, please visit our current website.
Papua New Guinea:Building Local Skills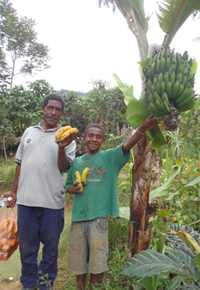 Local clergyman and young boy showing off
a new crop of bananas that grows quickly
and has a higher yield. © ABM/Meagan
Morrison, 2014.
This project supports communities in PNG by working with locals to build their skills and improve their agriculture, infrastructure and education.
Meagan Morrison, ABM's PNG Program Coordinator and Partner Liaison, visited Fikombaru, Simbu Province, and Aserangka, Eastern Highlands Province, on a monitoring trip where she witnessed the success of one of the many activities funded under this project.
In Fikombaru, young people have received training in improved agriculture and animal husbandry techniques and received seeds and starter populations of goats and fish. A model garden and nursery also provides ongoing assistance. An adult literacy school in the same community teaches men and women literacy and numeracy skills they can apply to these other areas.
Through this activity, ABM is supporting the community and the Church to liaise with the PNG Government Department of Agriculture and Livestock to promote improved productivity and encourage nutrition education. The way the components of the program work together creates more connection in the community and stronger skills for locals.
Meagan reports that the hope for 2015 is that this project will be the model for daughter projects in other communities, such as Aserangka, and provide them with skills and resources as well as ongoing support and encouragement.
PG020IS – Building Local Skills needs $165,000 in 2015 (tax-deductible)
| | |
| --- | --- |
| | This project receives partial funding from the Australian Government. |
HOW TO DONATE
You can make an online donation to this project by selecting PNG: Building Local Skills from the full project list.
Alternatively, for donations by cheque/money order (made out to the Anglican Board of Mission – Australia), telephone or email, view contact details here. Please don't forget to include the project name and/or code with your payment details.
Adult Literacy in Papua New Guinea
Hear from some of the people whose lives have been changed when they learned to read and write by participating in the Anglicare PNG Adult Literacy Program. ABM is proud to be a supporter of Anglicare PNG's work. The Adult Literacy Program has received funding from the Australian Government, AusAID.
Learn more about the Literacy Program in PNG in this article:
ABM and the Anglican Church of PNG Working for Change