ABM Archive Website
THIS WEBSITE CONTAINS ARCHIVE MATERIALS FOR HISTORICAL REFERENCE ONLY
For up-to-date information, including our latest appeals, news, and resources, please visit our current website.
Papua New Guinea: Revise ACPNG Eucharist Liturgy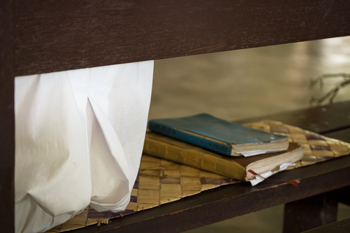 This project will help the church in PNG revise its Prayer Book.
© Melany Markham/ABM, 2010.
This is part of the Church to Church Program: Learn more about ABM's Programs here.
This project aims to help the Anglican Church in Papua New Guinea (ACPNG) revise the Church's Eucharist Liturgy so life can be brought back into services offering greater participation.
The first ACPNG Prayer (Brown) Book was published in 1991. Prior to that, when the Church became a Province of its own in 1975, it continued to use the Australian version of the Prayer Book.
For more than 38 years, people have seen the priests doing the same things with people having little part to contribute to Sunday Services. Over the past years, people became spectators by watching the priests and servers doing almost everything at the Sanctuary – so many Anglicans have lost interest and given up Sunday Services.
Leaders of the Anglican Church tell ABM that many people are deserting the Anglican Church in PNG, backsliding into the world or joining Pentecostal churches.
The House of Bishops (HOB) meeting in March 2015 have considered this to be the one big issue the Church is facing. The meeting resolved to revise the Church's Eucharist Liturgy. Each bishop has been tasked to contribute towards revising and making changes to the Liturgy so that people will have greater participation.
The HOB would like people to enjoy the liturgy in the worship – to be filled with life. In this way the liturgy will attract many Anglicans back again to be participating worshippers.
Your support of this project will help the Anglican Church in Papua New Guinea bring life back to the liturgy.
PG013EL needs $11,934 in 2016 (non tax-deductible)
HOW TO DONATE
You can make an online donation to this project by selecting PNG: Revise ACPNG Eucharist Liturgy from the full project list.
Alternatively, for donations by cheque/money order (made out to the Anglican Board of Mission – Australia), telephone or email, view contact details here. Please don't forget to include the project name and/or code with your payment details.
Gifts to ABM will be applied to the support of project(s) selected. In the unlikely event of the project being oversubscribed or not proceeding to completion, donations will be applied to a similar project to the one(s) selected.
PROJECT UPDATE
September 2016 – The Bishops and selected clergy from each diocese in Papua New Guinea met during May 2016, with the purpose of revising the current Liturgy for the Eucharist. Read more.
< Back