ABM Archive Website
THIS WEBSITE CONTAINS ARCHIVE MATERIALS FOR HISTORICAL REFERENCE ONLY
For up-to-date information, including our latest appeals, news, and resources, please visit our current website.
Church Partnership Program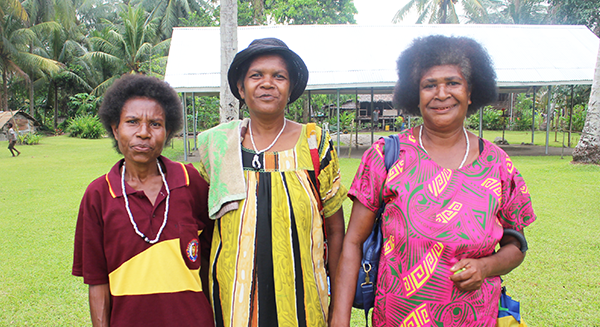 Women from Sorovi community in Popondetta, where an Adult Literacy class was launched in 2017.
ABM have partnered with the Anglican Church of PNG and Anglicare PNG since 2004 as part of the Church Partnership Program. The Church Partnership Program brings together seven denominations and their Australian NGO partners to work together to improve service delivery and build resilience in rural communities, with support from the Australian Government.
The Anglican Church of PNG and Anglicare (the Church's social and development arm) are focused on the areas of adult literacy, health, disaster risk reduction, gender equality, and child protection. Key objectives include:
improve the quality and standard of literacy programs, leading to increased opportunities for transition to formal education and employment
promote healthy lifestyle messaging through schools and partner with the National Department of Health in supporting communities to self-assess healthy practices
increase capacity and integration of gender equality and social inclusion through all church programs through gender equality theology and youth mentorship
increase community awareness of potential disasters and work towards resilient and ready communities
Watch this video of an adult literacy learner, Serah, who tells of how Anglicare's literacy program (as part of the Church Partnership Program) has transformed her life:
The Church Partnership Program is supported by the Australian Government through the Papua New Guinea–Australia Partnership. To donate to a similar project, please see PNG Adult Literacy

Read about the impact of the Church Partnership Program
July 2020 – ABM's Partner Anglicare Papua New Guinea says NO to violence against women and girls
March 2019 – Slade's Story: A Passion for Fashion
Has Anglicare PNG's Adult Literacy Program really made a difference?
Sept 2018 – PNG Adult Literacy Project update – Literacy goes beyond a book
< Back