ABM Archive Website
THIS WEBSITE CONTAINS ARCHIVE MATERIALS FOR HISTORICAL REFERENCE ONLY
For up-to-date information, including our latest appeals, news, and resources, please visit our current website.
Update:Church Partnership Program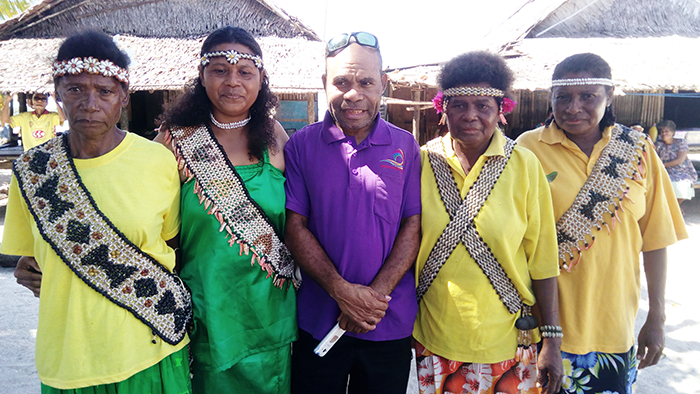 Slade, wearing a green dress of her own creation, is photographed with members of the Weaver's Association that Slade established. They are displaying accessories they threaded from seashells for visitors from the Anglicare Church Partnership Program. Anglicare's Church Partnership Coordinator, Thompson Yawe, stands with them. © Mavis Tito, 2018.
March 2019
Slade's Story*: A Passion for Fashion
Imagine you live in a world where disadvantage meets you at every step. A world in which you could not complete your education because of poverty. A world where paid work seems like a wonderful but distant, hopeless dream. A world that looks at you with disdain because you are a woman, making you embarrassed to express your needs and reluctant to share your opinion. Imagine a world in which tradition tells you that you are worth less than others.
Slade is 41 years old, and lives in Alotau, in Papua New Guinea's Milne Bay province. Like many young girls in rural PNG where she grew up, Slade drifted into teenage motherhood after completing primary school. By the age of 17 she had two small children, and had to put all her efforts into working to support them. After marrying in her early 20s, and having three more children, her mental health deteriorated and she attempted suicide. She then faced a long and difficult road to recovery, with support from her husband, family and the wider community.
About six years ago, when she was 35, Slade heard about a small 'Life Skills' project that the Anglican Church was offering, through the Australian Aid-funded Church Partnership Program. Encouraged by a friend, she enrolled in the course and learned how to bake and sew. This was just the beginning of Slade's turning her whole life around. She enrolled the following year in further training in sewing, and in flower arranging, this time organised by the local Alotau Women's Empowerment Group, supported by the PNG Tourism Bureau.
Slade found she had a natural gift for creative design, and experimented with different patterns, making garments from pieces of fabric given to her, or purchased at the local market. She later joined a fashion design workshop which helped her to incorporate seashells into her emerging designs. Slade would work anywhere – on the floor of her house or outside under the shade of the mango trees. She produced blouses, head scarves, dresses, skirts, trousers and school uniforms. She felt she was fulfilling her God-given potential.
But more was to come. Slade joined a new Church Partnership workshop, this time on Gender and Women's Empowerment. As she listened to the discussions on the status of women in PNG, the fact that most women earn less than half that of their male counterparts, and are only half as likely to be in paid employment, and was reminded of deep-rooted cultural practices such as polygamy and women forming part of compensation payments, a light suddenly switched on inside her. She began to see herself differently. To realise she could achieve great things as a woman. She could dream of a better life, not just for herself, but for other women too.
Slade had already formed a support group for single mothers and widows, but now she took this a step further, starting the Sinata Family Group, teaching the members what she had learned both in her life and from the workshops. This group now specialises in fashion design, and has begun to achieve broader recognition. The group showcases its work in galleries and fashion shows in Rabaul and Port Moresby.
Slade is now a nationally recognised designer, and has plans to produce a range of wedding gowns. The high regard in which she is held in her community has resulted in her being appointed Acting Local Level Government Coordinator, and she has also been made a member of the Alotau Women's Empowerment Group in recognition of her work helping other women to become empowered.
Slade spoke of the time, recently, when she was invited to the Milne Bay Women Weavers and Fashion show, where she modelled her own products in front of a large audience, including leading national designers.
"I felt very special in my attire, but I was also gripped with fear because of my low education level and just simply being a village woman standing in a room with some very experienced designers and highly educated people. I pulled myself together and did my catwalk on the runway with tears streaming down my cheeks. I thought about everything I have been through and where I was at that moment and was filled with pride. For me there was no more looking back."
*Slade's story was recorded by ABM's Partner Liaison Consultant, Mavis Tito, in conversation with Slade, and edited by ABM.


The Church Partnership Program is supported by the Australian Government
through the Papua New Guinea-Australia Partnership.
< Back