ABM Archive Website
THIS WEBSITE CONTAINS ARCHIVE MATERIALS FOR HISTORICAL REFERENCE ONLY
For up-to-date information, including our latest appeals, news, and resources, please visit our current website.
Papua New Guinea: Adult Literacy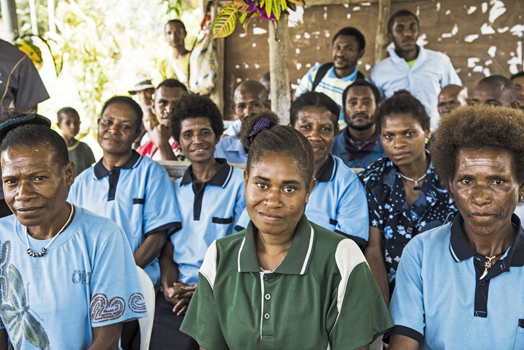 Students at the Awala Adult Literacy School in Saiho Community, Popondetta. © Ivy Wang/ABM, 2018.

This year we aim to provide structural support for the Anglican Church of Papua New Guinea so that they can develop and extend the literacy, language and numeracy project to increasing numbers of women and men throughout the country.
ABM has been partnering for more than 10 years with Anglicare PNG, the social outreach arm of the Anglican Church of Papua New Guinea, to provide Adult Literacy classes both in Port Moresby and regional and rural communities.
In a country where more than one third of all adults are illiterate, and where education can be disrupted by tribal warfare, family issues, or no money available for school fees, Anglicare's Adult Literacy classes are vital for helping people make up for lost opportunities and to become contributing members of PNG society, either via further education or employment.
ABM's Pacific Coordinator Kate Winney, and Partner Liaison Mavis Tito recently travelled to Popondetta where they witnessed the signing of a partnership agreement for an adult literacy school in Awala community, just outside of Popondetta town.
Learners heard Anglicare's Popondetta Literacy Coordinator encourage the community that, "The power to change and grow is within us, in this community. We generously receive support from the outside, but the miracle happens here in the community." This sums up the story of the Awala community members, who decided to start a literacy school in 2015 to support the many illiterate adults living in the area. Community members gathered bush materials and worked hard to build the classrooms for the learners, and Anglicare helped to identify teachers within the community and started training.
Now a thriving adult literacy school with many side projects, the community has 130 current learners in addition to the recently established early childhood education centre and disability service centre. Seeing young people not finishing school, the Level 1 Teacher said "we wanted to take them in so they forget about homebrew and drugs etc, so that they can be part of the team and our community again". Some learners walk up to ten kilometres 3 days a week for school, out of a desire to learn how to read and write.
The school also encourages people with a disability to join the program and in Level 1 there are 7 learners with disabilities. Some learners have been provided with wheelchairs through the provincial government, and the teachers hope to receive training in sign language so they can better support the learners.
Jimmy, a Level 1 student, said:
"I have been a learner for two years at the school and never went to school before that. I can now write but not yet speak Tok Pisin and I am still learning. My dream is to learn to read and write by myself and I wish to own a trade store."
Kate Winney continues: "The celebratory occasion was an opportunity to commemorate the progress so far, and recognise the ongoing commitment of partnership between the community and the Oro Provincial Government, Anglicare and the Anglican Church of PNG. After hearing stories from teachers and learners, we were given a tour of the community. Over the past few years, the community realised the skills and resources they already had and started to plan several small income generating projects to help fund ongoing school costs like maintenance and stationary. The grand tour included meeting several crocodiles in the community crocodile farm, visiting the chicken house, seeing the four room village style guest house, and exploring the nature park that visitors can pay to walk through. A fifth income-generating project is underway, with a large oven being built which Level 4 and 5 learners will use to bake and sell bread. Like the Awala community, Anglicare is working to support many communities with training on income-generation projects that will help both sustain the school and generate income for families."
Your support of this project will enable Anglicare PNG to work with the Anglican Church of Papua New Guinea to strengthen and extend the work that has already been done by the Church Partnership Program in Literacy, Language and Numeracy, taking it further into remote communities where the church is present with the people.
PG005ED needs $18,370 in 2019 (tax-deductible)
Teaching materials for one literacy class of up to 25 people cost $130 per year.
A training workshop for teachers typically costs $100 per teacher.
An annual teacher's allowance costs $700.
| | |
| --- | --- |
| | This project receives partial funding from the Australian Government. |
HOW TO DONATE
You can make an online donation to this project.

Alternatively, for donations by cheque/money order (made out to the Anglican Board of Mission – Australia), telephone or email, view contact details here. Please don't forget to include the project name and/or code with your payment details.
Gifts to ABM will be applied to the support of project(s) selected. In the unlikely event of the project being oversubscribed or not proceeding to completion, donations will be applied to a similar project to the one(s) selected.
PROJECT UPDATE
July 2019 – Rudy Dawarinai, one of the literacy learners, shares how her life has been transformed through the Adult Literacy project in PNG. Read more
December 2018 – Has Anglicare PNG's Adult Literacy Program really made a difference? Read more
September 2018 – The abilty to read and write can be life changing as so many aspects of our lives depend on being able to understand letters and numbers, to be informed and make decisions. The PNG Adult Literacy project is making this a reality in the lives of many. Read more
< Back