ABM Archive Website
THIS WEBSITE CONTAINS ARCHIVE MATERIALS FOR HISTORICAL REFERENCE ONLY
For up-to-date information, including our latest appeals, news, and resources, please visit our current website.
Project Update: PNG Adult Literacy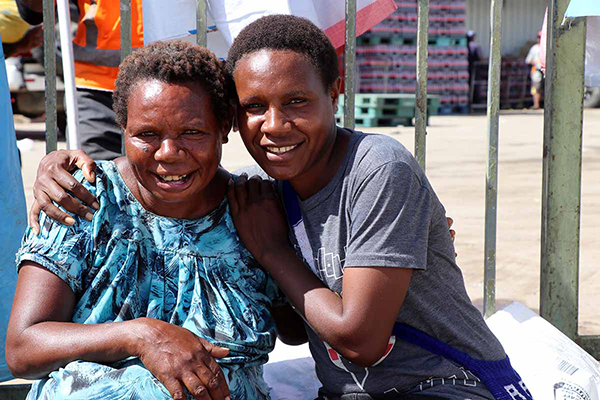 Rudy Dawarinai and her mother.
Here is an inspiring story about Rudy Dawarinai, one of the literacy learners, whose life has been transformed through the Adult Literacy project in PNG. ABM proudly partners with the Anglican Church of PNG and Anglicare PNG to support this project through the Church Partnership Program, supported by the Australian Government through the Papua New Guinea–Australia Partnership.
Rudy's future bright thanks to church literacy program
09 July 2019
When 24-year-old Rudy Dawarinai stood up and confidently read a story she wrote about her life in front of nearly 70 church representatives from across the country, few could believe that just three years ago she was completely illiterate.
A testimony to the success of church learning programs across Papua New Guinea, the speech was delivered at the Church Partnership Program forum held in Lae, Morobe Province, in March, supported by the Australian Government.
Originally from Marawaka village in the Eastern Highlands, Rudy came to Port Moresby when she was just two years old with her mother, Janeline, to join her father who worked in the city.
However, the struggle for Rudy's family began six years later when her father was imprisoned, leaving her and her mother to fend for themselves.
"The biggest challenge was that mum had no formal education. Being illiterate she could not secure a job, so we couldn't afford to live on our own," Rudy recalls.
"We wandered from place to place, living with relatives. Some were kind, but many also couldn't handle extra mouths to feed for long periods of time."
Rudy's mum began selling used plastic bottles to earn an income, but Rudy stayed home, missing out on school and an education, leaving her with little hope for a better future.
It was through friends that Rudy first learned about Anglicare PNG's adult literacy program and, with their encouragement, enrolled in the level one course in 2016, along with 120 other men and women from across Port Moresby.
"It took me a while to fully concentrate, I was very raw. Anglicare was the first time I learned the
importance of education and seriously thought about my future and a better life for mum and I," said Rudy.
For months, Rudy worked hard to sound out letters and words on the page, but writing the alphabet was her main struggle.
"They gave me a paper to write my name, but I was extremely agitated and almost burst into tears," remembered Rudy.
"Here I was a grown person. While most my age were getting jobs and having fun, I was starting off with the basics, barely knowing what letters were in my own name."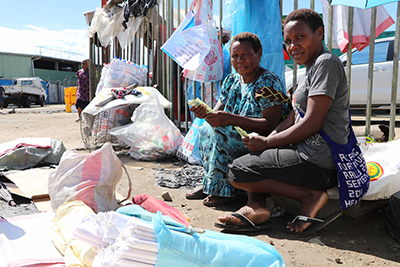 Rudy now aims for a bright future for her and her mum.
After recently graduating with a level four certificate, Rudy is now completing grade six at Barakau Primary School in Central Province and enjoys helping other students in her class. She hopes to continue to grade 12 and one day attend university.
Mary Worri is a tutor with Anglicare and has been impressed by Rudy's progress in both literacy and numeracy skills.
"Rudy is a very keen, energetic, bright student and helps her mother out at the market on the weekends, calculating change and chatting with customers," she said.
Mary said the program also helps Papua New Guineans realise their dreams and potential to contribute back to their families and communities.
With Australian Government's support, adult literacy and pathways to lifelong learning have been a focus of the Church Partnership Program since 2004. Since 2018 over 5,300 men and women, including people with disability, participated in adult literacy programs facilitated by church partners across the country.
Now able to confidently read and write, Rudy has written a short book about her life and proudly reads it to anyone who will listen. Her dream is to work in medicine after reading the biography of Dr Ben Carson who overcame poverty to become a world-renowned neurosurgeon.
"I am more focused on working towards a better life for my mum and grateful for Anglicare's help. Without it I would still be like before – illiterate – no dreams – no hope," said Rudy.
(Source: article and images https://png.embassy.gov.au/pmsb/1041.html)
< Back