ABM Archive Website
THIS WEBSITE CONTAINS ARCHIVE MATERIALS FOR HISTORICAL REFERENCE ONLY
For up-to-date information, including our latest appeals, news, and resources, please visit our current website.
Anglicare PNG – Sharing Lessons for Mutual Learning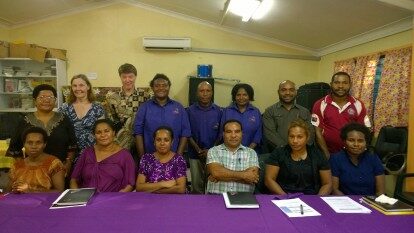 Workshop participants pose for a group shot
© ABM / Julianne Stewart 2016
SHARING LESSONS, BUILDING ORGANISATIONAL STRENGTH
We all know that sharing stories of what we have learned in life can sometimes help others who face similar challenges. This is the approach ABM takes in sharing our own learning with our various community development partners around the world. And in this process, we also learn a lot from our partners.
It was in such a spirit this week that ABM(AID) Development Effectiveness Officer, Dr Terry Russell, led workshops in Port Moresby for the staff of Anglicare PNG as part of the DFAT-funded Church Partnership Program. In this, he was assisted by a number of Anglicare staff with responsibilities for Adult Literacy, WASH, HIV, HR, Finance and Disaster Risk Reduction, as well as ABM's Programs Director, Dr Julianne Stewart.
The workshops covered areas such as:
identifying strengths and gaps in organisational capacity
how to measure the impacts of community development work
lessons learned by ABM and Anglicare in recent times and how these help us improve
disaster risk reduction – concepts and simple mitigation
listening to the voices of the communities to improve programs
types of program monitoring.
Terry's comments at the end of the two day sessions were: 'I'm very impressed by Anglicare. You all seem so organised, and you have a very good atmosphere here.'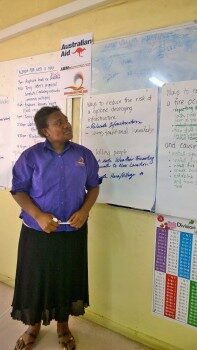 Josepha explains an aspect of
disaster risk reduction
©ABM/Julianne Stewart 2016
Other participants were enthusiastic:
Marcia (Anglicare Port Moresby Manager): It was good to be challenged by different ways of doing things, and I especially liked the Disaster Risk session and I didn't previously know much about this area.
Mary (HIV counselling and Testing Manager): I valued learning about the broader picture, about how many different people and organisations are all involved in the development process.
Daniel: I learnt a lot of things, especially the difference between outcomes and outputs – the tricks of the terms. Josepha (Clinical Manager): I've learnt a lot of tips to improve my capacity, especially in monitoring and evaluation. I have a lot of opportunities to get information so we can see the outcomes of the work that we do. Thank you.
The last word goes to Mrs Heni Meke, Anglicare's National Director: The partnership between Anglicare and ABM is a good one. In my five years as a Manager I have seen ABM as a big strength in terms of capacity development. They have helped me learn much more about development work. One thing that caught me is our focus on inputs, but we also need to see outcomes and impacts. Anglicare is strong because of its staff and its partners.
> Back