ABM Archive Website
THIS WEBSITE CONTAINS ARCHIVE MATERIALS FOR HISTORICAL REFERENCE ONLY
For up-to-date information, including our latest appeals, news, and resources, please visit our current website.
Project Update: Sustainable Development in Popondota Diocese
In 2018, a group of Adult Literacy Learners in Dipoturu community, Oro Province, wanted to establish new adult literacy schools in their area, and employ more teachers. But they needed a sustainable source of income to do this. So, with the help of the Popondota Anglican Diocese Church Partnership Project Officer, they established a verbal partnership with the Southern Regional Cocoa Board based in Oro Province, to set up a cocoa farm.
The Board agreed to provide the students with 200 Cocoa seedlings and to train them in how to start and manage cocoa production. Soon the Anemba* Multi-Purpose Cooperative Society was established and registered.
The training included how to plant and care for the cocoa so that it produces the best fruit. It also included a technique called "cocoa budding" which is a new system for breeding new cocoa seedlings to increase the quantity of produce.
The Dipoturu community then built a resource centre to assist with cocoa production training needs, life skills initiatives and to enable other community meetings to take place inside. This now provides a central training location, and comfortable setting for further education.
The community has already harvested two crops, with a third harvest planned in the next few months. To extend the community owned means of production, and to save money on outsourcing, a cocoa frumentary was built in the community for drying the harvested cocoa beans.
The first harvest only made a profit of 300 PNG kina (about $115) because of the low price of cocoa at that time. But the second harvest made 500 kina (about $190). This profit was used to purchase two larger pipes to allow more smoke to exit the cocoa frumentary, resulting in a product of higher quality with a less smokey flavor. It is hoped that the next harvest will have a larger and better-quality product which will further increase profits.
The Dipoturu Adult Literacy Learners remain very enthusiastic and committed to developing this sustainable local business.
*Anemba is the clan name of the people of Dipoturu village.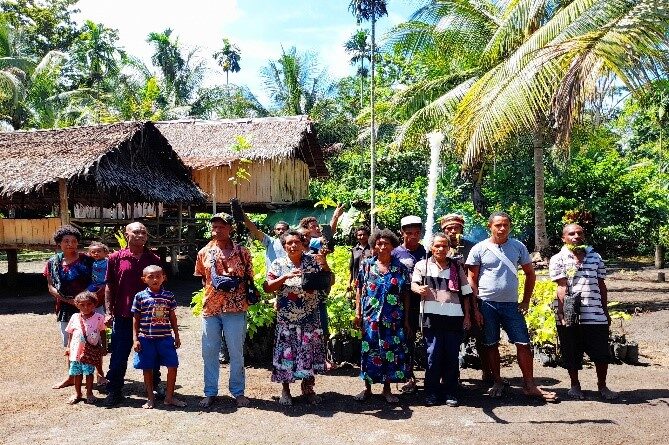 Some of the community members and their chief (middle) © Anglicare PNG. Used with permission.