ABM Archive Website
THIS WEBSITE CONTAINS ARCHIVE MATERIALS FOR HISTORICAL REFERENCE ONLY
For up-to-date information, including our latest appeals, news, and resources, please visit our current website.
PNG: Adult Literacy Project Update
October 2017
A second chance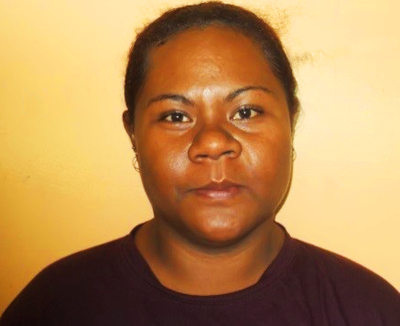 Anglicare PNG Adult Literacy student Mary Hekwa. © Anglicare PNG
2017.

Used with permission.
Mary Hekwa is 24 years old, and comes from the Kairuku Hiri District in Central Province of Papua New Guinea. When Mary was a teenager, she was forced to drop out of high school when both her parents tragically died. Although she had close relatives, they weren't able to pay for her ongoing school fees, meaning that she could not continue her education.
Seven years later, however, Mary discovered that Anglicare PNG had an adult literacy school. These schools are supported with funding from the Australian Aid program*, and generous donations from ABM supporters. As soon as she heard, Mary enrolled and began to attend classes. Now an enthusiastic student in Level 4 of the Port Moresby branch, she recently gave an interview with her teacher Warren Waghi.
How did you hear of Anglicare Adult Literacy School, and what made you enroll?
I read an article about Anglicare Adult Literacy School in the National Newspaper last year. It stated that Anglicare Adult Literacy centres provide a second chance for under-privileged and unfortunate illiterate adults and youths. It creates a pathway to education and employment. When I read that, I was so pleased, and am here now doing my Level 4.

What is your career ambition after completing Level 4?
After finishing here, I am planning to go and find a good job which would help me to earn some money for my living.
What is your view on Anglicare PNG providing Adult Literacy learning?
Anglicare PNG is a non-government organization which helps people like me in situations where they feel hopeless, and when there is nobody to help them with education. It is truly a life-changing place that we get help from both in spiritual and educational teaching.
The most valuable skill I learnt from this school is the Phonics sounds, which helps me to speak good English and write good English as well.
Having gone through the literacy program, what recommendation would you give to your street peers who are semi-illiterate or complete Illiterate?
When I get to the village, I will help my peer mates and tell them about the Anglicare Adult Literacy program. I will encourage them to come and enroll with Anglicare Adult Literacy School.
What is your long-term goal?
My long-term dream is to find a good job in the future after finishing here. I am confident that I am capable to find a decent job, because I learnt necessary skills and knowledge with Anglicare Adult Literacy program.
Interview written by Level 4 Literacy Teacher Warren Waghi, and edited by Anglicare Literacy Manager Darwin Gabore.
* Australian government funding is provided through two streams, the Church Partnership Program (CPP) and the Australian and NGO Cooperation Program (ANCP).