ABM Archive Website
THIS WEBSITE CONTAINS ARCHIVE MATERIALS FOR HISTORICAL REFERENCE ONLY
For up-to-date information, including our latest appeals, news, and resources, please visit our current website.
Newton College Update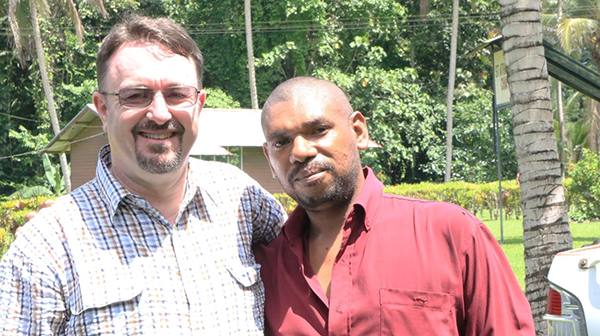 Partnerships Coordinator Robert McLean with Leki Kambari. © Fr Nick Mkaronda, 2019.
4 February 2019
Leki Kambari reports that during the time since the end of the last term the ordinands (students training for the Church's ordained ministry) at Newton Theological College in Papua New Guinea have been hard at work doing maintenance jobs around the college. This has seen them refurbish four of the buildings on the campus – three classrooms (two for the ordinands, and one for their wives) as well as one of the staff houses. As he said to ABM it's great progress.
Leki is a 32-year old ordinand from the Diocese of Popondota and comes from the Jegase clan. He and his wife Delvin have a daughter, Margaret, who is now a toddler. Leki's family is proud to be Anglican. His great grandfather was one of the first to welcome the Rev Henry Holland to Isivita, Leki's ancestral land. Fr Holland was later martyred during World War Two.
Leki grew up in a village and attended its parish church as a boy. Later, he was involved in youth work in the parish. His parish priest saw that he had potential and helped Leki to discern his vocation to the ordained ministry. Leki's family was happy that he decided to go to Newton Theological College given their connection to Henry Holland and the missionary work he undertook in their area. Leki is about to begin his fourth and final year at the college. His favourite subjects are Biblical Studies and Systematic Theology.
Leki is very positive about not only the physical changes around the campus but also the educational changes that have been happening under the leadership of the Acting Principal, Bishop Jeffrey Driver, and the Deputy Principal, Fr Giles Motisi.
'Having Bishop Jeff with us has been wonderful. He's a great gift. I've loved learning more about the New Testament in his classes. He has been helping me with my essays and I have been improving a lot,' said Leki.
Below is a selection of photos showing parts of the renovation works, taken by Leki and by Fr Giles.
Download a .PDF copy of the update here
< Back