ABM Archive Website
THIS WEBSITE CONTAINS ARCHIVE MATERIALS FOR HISTORICAL REFERENCE ONLY
For up-to-date information, including our latest appeals, news, and resources, please visit our current website.
Papua New Guinea: Newton Theological College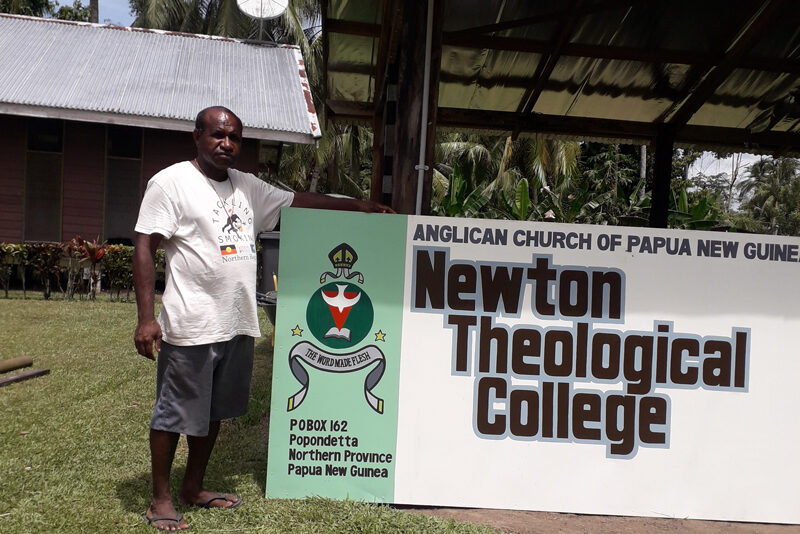 © Newton Theological College, PNG. Used with permission.
Building welcoming, transforming communities of faith – Papua New Guinea
ABM's Newton Theological College (NTC) project currently sees us collaborating with the NTC staff and students, specialist volunteers, Acting Principal, the Rt Rev'd Dr Jeff Driver and Deputy Principal, Fr Giles Motisi.
Fr Giles began his working life with an agriculture degree, managing a plantation company. But he always felt a call to the ordained ministry of the Church. So, having consulted with his family and parish priest, he put himself forward to his bishop for consideration and was accepted to study at Newton College. After graduating, he did further theological study, then returned to Newton on the staff, and eventually was made its Deputy Principal.
On any given day Fr Giles might be presiding at the Eucharist, writing and delivering lectures, mowing sections of the college's extensive lawns, taking sick students into town to the hospital on the PMV (the local bus service), reading in the library to prepare for a sermon, leading a student pastoral group, or growing food in his vegetable plot (the source of most food for people living on the campus).
He is sustained by the daily reading of his bible and praying Morning and Evening Prayer. Fr Giles says of his busy life, "Last semester, due to COVID-19, I was the only priest and lecturer, and was doing lots of administration too. I remember someone asking how I was handling all that. And the answer was 'by the grace of God'.
"I think my experience as a plantation manager has been helpful with the work in the college, especially with supervision, organising and time management. My degree in agriculture also makes it easy to manage our cocoa block, and rice mill and I'm hopeful we'll be able to develop a chicken and fish farm for the college.
"Now that the power has been connected by PNG Power through the generosity of ABM donors – a long-held dream – it will mean we can begin to improve life at the college by adding an internet booster and working to establish an IT lab with students having access to computers."
By donating to Newton Theological College you're joining with others who want to see the college continue the improvements already made. You'll be empowering the NTC staff and students, the Rt Rev Dr Jeff Driver, specialist volunteers and Fr Giles, all of whom are determined to build on the strong foundation that we've already been able to create together and see the college flourish.
In 2021 Newton Theological College needs $81,000
---
Project UpdateS
July 2021 – Read the latest update on Newton College with news from Bishop Jeff Driver, including the good news of the purchase of a new working vehicle for the college. Read more.
January 2021 – Bishop Jeff Driver writes an update on ABM's Newton College Project, noting the challenges of the COVID-19 pandemic, and the good news of the development of a new course, the arrival of Fr Clifford Anubo to teach in Semester 2, and the connection of the college to mains power. Read more
---
HOW TO DONATE

Alternatively, for donations by cheque/money order (made out to the Anglican Board of Mission – Australia), telephone or email, view contact details here. Please don't forget to include the project name and/or code PG022NT with your payment details.
Gifts to ABM will be applied to the support of project(s) selected. In the unlikely event of the project being oversubscribed or not proceeding to completion, donations will be applied to a similar project to the one(s) selected.
< Back