ABM Archive Website
THIS WEBSITE CONTAINS ARCHIVE MATERIALS FOR HISTORICAL REFERENCE ONLY
For up-to-date information, including our latest appeals, news, and resources, please visit our current website.
Project Update: More Stories of the Martyrs' Legacy Today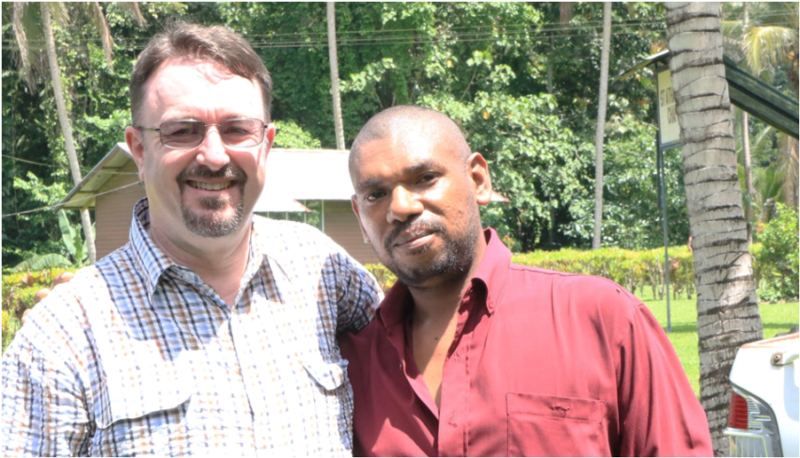 Fr Leki (pictured with ABM's Partnerships Coordinator, Robert McLean) while studying at Newton Theological College in 2018. © Newton Theological College.
Leki Kambari
St Barnabas' Anglican Church, located at the foot of Mt Lamington, has served the people of Sasembata for 67 years. Leki Kambari first found out he was being called to the priesthood when the St Barnabas Parish Council informed him they had sent off an application for him to study at Newton College. Although it came as a surprise, Leki willingly accepted this calling. And now, he has completed his training, was ordained deacon, and serves back at his home parish of St Barnabas'.
He writes: "In 2016, I came in as first year student… At first life seemed so hard, there were gardens to be made, we had to walk to collect water for drinking, washing and laundry. But as the time went by, we soon got into a system."
Life at Newton College is structured around the three pillars of Prayer, Work and Study.
Leki writes: "Prayer life in college is very important. It helps build the spiritual life of each individual ordinand. Morning and evening prayer is compulsory. This prayer life is helpful in the ministry in which are called.
"Work parade is compulsory. I'd never realized how important it was. Work helped shaped our life. I enjoyed that. I was in charge of the lawnmower. I loved it. I learned also some carpentry skills from the college carpenter. Our spouses also joined us.
"All these skills are helpful now that I'm out here in the field. I'm not just waiting for help from Christians in our parish. Right now I'm working on my new house at the parish.
"The academic stream is the most important and is the centre of my life. I need a better, and best knowledge to approach the 21st century. I gave the best of my abilities to study at Newton College. I thank all the hard-working staff. I am preparing good sermons and teachings and am providing pastoral assistance to our teachers.
"My wife, Mother Delwyn, is happy with what she is doing. She is using her sewing skills to sew my vestments. She is also providing 'Agape' on Sunday after church.
"We thank the College for the great service they provided to us. We also want to thank our partners, including ABM, for your great support towards Newton College. Please continue pray for Newton College and us."
ABM would also like to thank those who contributed to Fr Leki's training, and who are helping to build up the Anglican Church of Papua New Guinea, by supporting ABM's Newton Theological College project.
Your donation to ABM's 2020 Martyrs Appeal will ensure the legacy of the New Guinea Martyrs continues to endure.
To find out more, please visit https://archive.abmission.org/martyrs2020