ABM Archive Website
THIS WEBSITE CONTAINS ARCHIVE MATERIALS FOR HISTORICAL REFERENCE ONLY
For up-to-date information, including our latest appeals, news, and resources, please visit our current website.
Project Update – Newton Theological College
JANUARY 2021 – Bishop Jeff Driver writes an update on ABM's Newton College Project, noting the challenges of the COVID-19 pandemic, and the good news of the development of a new course, the arrival of Fr Clifford Anubo to teach in Semester 2, and the connection of the college to mains power.
Bishop Driver writes:
"One of the great highlights of this year has been the development of a Tertiary Bridging Course. The PNG national Government is now requiring that students who wish to study at Diploma or Degree levels need to have Year 12 qualifications or their equivalent. Many of the students presenting for study at Newton have only Year 10 behind them. In a very creative partnership with Popondetta Secondary College, Newton has developed a curriculum and started teaching the Bridging Course. The demand was very encouraging, with more than 20 students enrolled." (see photo below)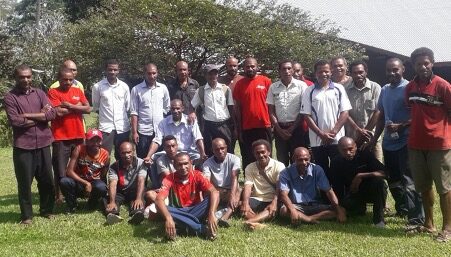 Students of the Tertiary Bridging Course offered by Newton College commencing 2020
Bishop Jeff notes: "Fr Giles Motisi has spoken about the quality of some of these prospective students; a very encouraging sign of hope for the Anglican Church in PNG, which also has had some very significant challenges, with the resignation and then the death of previous Archbishop Alan Migi, as well as some very significant financial challenges.
"Another feature for this year was the connection of mains power to the college site, which has been done, largely due to support from donors in Australia. However, there are still some issues with the reticulation around the college itself, so more work needs to be done and more funds need to be raised. A stable power source will enable the installation of an internet booster. This will allow better communication with the college and even some remote tuition from visiting lecturers."
Bishop Driver concludes his report by identifying three key areas for the year ahead:
"The coming year presents some important challenges for the college, particularly as we seek to upgrade the facilities to meet new Government accreditation requirements. So please pray for:
Funding for student support, accreditation upgrade and power reticulation.
Discernment for those considering starting studies at Newton College in 2021.
Support and encouragement for staff."
ABM thanks Fr Giles, Fr Clifford, Bishop Jeff, and ABM supporters for their hard work during the year, and asks you to continue to pray for the college, its governing board, staff, students and their families as they meet the challenges of 2021.