ABM Archive Website
THIS WEBSITE CONTAINS ARCHIVE MATERIALS FOR HISTORICAL REFERENCE ONLY
For up-to-date information, including our latest appeals, news, and resources, please visit our current website.
Revise ACPNG Eucharist Project Update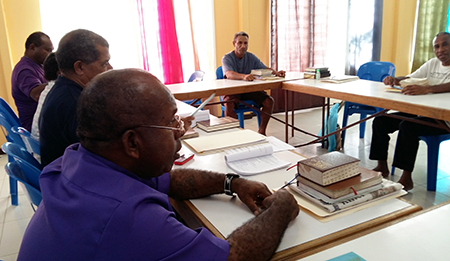 ACPNG Bishops and clergy meet to discuss the liturgy in May 2016
September 2016
The Bishops and selected clergy from each diocese in Papua New Guinea met during May 2016, at the Sivarai Nomana retreat Centre in Port Moresby. The four-day conference was facilitated by Archbishop Clyde Igara of the Anglican Church of Papua New Guinea, with the purpose of revising the current Liturgy for the Eucharist.
The first day was spent looking at the Liturgy for the Eucharist, assessing its strengths and weaknesses. Many areas were identified as needing improvement, and changes were suggested for how to better engage local parishioners in the worship service.
During the second day, the group discussed previous changes to the Liturgy for the Eucharist, made some years ago, which included sections of liturgies from other nations. Work then began on writing an authentically Papuan liturgy by the Bishops and clergy.
The week concluded with several draft liturgies being proposed, as well as some variations to the existing PNG and Melanesian rites. These will now be trialled throughout the various dioceses, and undergo a period of critique by various church members. Once this trial period is complete, written feedback will be sent to the Archbishops office for assessment, and the final Liturgy for the Eucharist approved.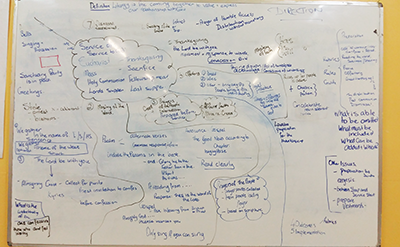 Ideas flow during brainstorming sessions
ABM would like to thank all the supporters who gave so generously to this project, enabling this process of local adaptation to the liturgy.
Please continue to join with us in praying over this vital work, that there may be a revival of relational connection and spiritual growth in Anglican churches across Papua New Guinea.