ABM Archive Website
THIS WEBSITE CONTAINS ARCHIVE MATERIALS FOR HISTORICAL REFERENCE ONLY
For up-to-date information, including our latest appeals, news, and resources, please visit our current website.
Special Request to help Newton Theological College, Papua New Guinea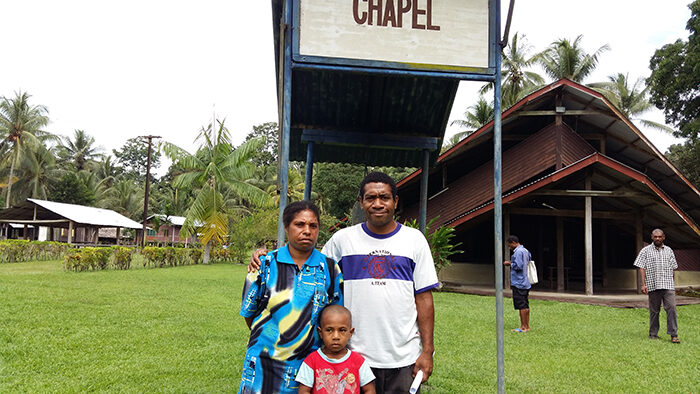 Graduating student Prout with his family in front of St Athanasius Chapel at Newton College.
© Margaret Poynton/Newton College 2017

ABM has been asked for funds to help Newton Theological College in Papua New Guinea purchase a new college vehicle.
The college is located in the village of Jonita, about 9km outside the regional centre of Popondetta, and has been without a functioning vehicle for some time. This lack of transport is limiting in many ways; it adds to the cost of obtaining supplies for the community, limits access to field education placements, and adds to the ever-present risk to personal safety. The goal is to purchase a second-hand vehicle that is new enough so that it does not present ongoing maintenance issues; either a dual cab utility, or a small passenger van. The cost would be around 45000 PNG Kina, or $20,000 AUD.
Because this has not been budgeted for, and because ABM does not want parishes and individuals to divert funding from projects that they are already supporting, we are making this special request, particularly to parishes and individuals who have not yet decided which project to support in the current financial year. ABM's Church to Church Unit is making support for Newton Theological College a priority for the five financial years from 2018 to 2022.
Bishop Jeffrey Driver (formerly Archbishop of Adelaide, Bishop of Gippsland and Executive Director of St Mark's National Theological Centre in Canberra) has been working with ABM to strengthen the teaching and to develop the campus at Jonita. He was appointed in November 2017 by the Anglican Church of Papua New Guinea to be the Interim Principal of the college and to mentor a new principal into that role.
Please give generously to help the staff and students of Newton Theological College.
PG026CV needs $20,000 in 2018 (non tax-deductible)
HOW TO DONATE
You can make an online donation to this project.

Alternatively, for donations by cheque/money order (made out to the Anglican Board of Mission – Australia), telephone or email, view contact details here. Please don't forget to include the project name and/or code with your payment details.
Gifts to ABM will be applied to the support of project(s) selected. In the unlikely event of the project being oversubscribed or not proceeding to completion, donations will be applied to a similar project to the one(s) selected.
< Back