ABM Archive Website
THIS WEBSITE CONTAINS ARCHIVE MATERIALS FOR HISTORICAL REFERENCE ONLY
For up-to-date information, including our latest appeals, news, and resources, please visit our current website.
Update for Philippines Community Capacity Building
The Organic Mushroom-Growers of Sitio Guesang in the Philippines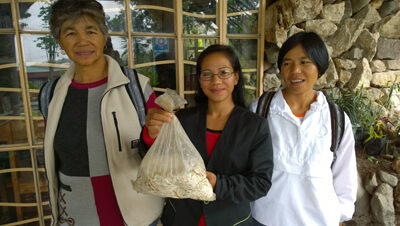 Mushroom growers Jonia Dady-as, Soledad Toyoken and Marly Deppas.
"We are all mothers, mostly with young children, and that is why we chose to do the mushroom growing enterprise, so we could stay at home with our children." These words were spoken by Marly Deppas, one of a group of women from a mining community in Sitio Guesang in the mountains of northern Luzon in the Philipppines, about their new community venture supported by ABM's partner, the Episcopal Church in the Philippines (ECP). ECP's community development arm, now working under the name of ECARE, has been working with numerous communities in its six dioceses, to give them a "leg-up" out of the poverty that continues to beset many in this nation of about 100 million people.
This particular community is in an area where the local government and ECARE are working to discourage small-scale gold-mining which is both ecologically damaging and often dangerous for the miners. There is a real need for community members to begin to engage in alternative viable livelihoods.
After joining the ECARE program, Marly and her fellow community members underwent training in asset-based community development. After assessing their community's existing assets, the women realised that rice straw, normally a waste product from their regular labour in the rice fields, could be used as a medium for growing organic mushrooms. The women formed themselves into a group and were able to access more ECARE training, this time in mushroom production and organic farming, as well as project management, book-keeping, business and risk management, and gender sensitisation. Once they had completed the training, they were eligible for a community loan from ECARE, at a very low interest rate, repayable after one year.
The women took out the loan and purchased their first batch of mushroom spores in May this year for 150 Philippine pesos (about $3.80) per kilo. After one month each kilo of spores had produced 10kg of mushrooms which the group sold for 1200 pesos ($30) per 10kg. Each batch of spores has the potential to produce a mushroom crop of up ten times the weight of the spores for up to eight harvests, before they decompose and new spores have to be bought. There are good local markets for the mushrooms, and the future for the women looks positive.
Marly and her group are also learning more about mushroom growing as they go. For example, they learned they had to cook the rice husks first to kill any insects, and to sterilise everything the mushroom spores came into contact with. But they then found that in some cases, cockroaches were getting into the bags of growing mushrooms at a later stage and were eating the crop. So the women are now protecting their crop with mesh netting, which has necessitated the whole crop being grown in one central place within the community, rather than in each member's house.
In addition to the core group of 11 women who began the project, five other women have since shown an interest in the enterprise and will learn from the existing members and join the group next year. The group's goal is to eventually involve about 32 households in the enterprise.
The group is very keen to learn from both the successes and mistakes of other mushroom growers. "We need to overcome the errors made by other mushroom growers we know about in nearby communities", said Jonia Day-as, another member of the women's group. "Those growers were supported by the Department of Agriculture, but they made mistakes in crop maintenance, and they lacked proper training. Also they were individual growers, but we believe our strength is in the fact that we are a group, and we also have had good training", she added.
The group aims eventually to produce their own spores, so as to be able to sell not just the mushrooms, but also the spores to other communities and individuals who want to get into organic mushroom production. "And once we produce enough volume we hope to start preserving and drying the mushrooms so we can exercise some control over the timing of sales and also market price", says Marly. "And, once we have ironed out the mushroom production, we will be looking at other livelihoods such as organic chickens and pigs, as well as better rice marketing."
ECARE's time and money look to have been well spent in working with the women of Guesang.