ABM Archive Website
THIS WEBSITE CONTAINS ARCHIVE MATERIALS FOR HISTORICAL REFERENCE ONLY
For up-to-date information, including our latest appeals, news, and resources, please visit our current website.
Philippines Capacity Building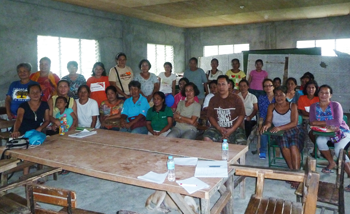 Lina, on right in blue top and glasses, at a community meeting
in Aklan Province. © ABM 2016.
FEBRUARY 2016
In November, Philippines Program Coordinator Lina Magallanes visited the barangay communities of Songcolan and Palay in Aklan Province on a monitoring visit. These communities are participating in the Integrated Community Development Project, delivered by our implementing partner E-CARE. The project is running from 2015 until 2018, and is set to benefit over 11,940 people.
Lina was pleased to report that there has been some good progress made so far, with the Songcolan barangay making particularly strong gains in coordinating their activities. They have formed an official community association amongst interested villagers, named the Songcolan Seashore Livelihood Association (SSLA), with a total membership of 53 people. These members have met on a consistent basis since the project began, and have appointed a management team who lead the association in shared undertakings. SSLA has also developed a mission statement, and has drafted its own policies to guide operations.
To date, 33 loans have been issued to members in Songcolan, in order to support various livelihood initiatives locally. The association has also established a community garden, with one community member, Nanay Hopeng, providing the use of her farm lot for free. Nanay Hopeng is a member of SSLA, who lost her job when the local prawn processing factory closed down after Typhoon Haiyan. The community garden is reportedly flourishing, with proceeds going back to SSLA for their association activities. All loans are being repaid according to SSLA's agreed policies, and the SSLA is on-track to repaying the full amount borrowed from E-CARE by the agreed deadline.
But this project is doing more than just improving the livelihoods of the members and their families. It is also helping to foster a greater sense of community cohesion and empowerment. Local villagers reported that there was no existing community organisation in Songcolan before SSLA, and that they used to have a mentality that was more individualistic. (Kanya-kanya is the phrase used to describe this in local language, which translates to 'I mind my own, you mind yours'.)
However, involvement in the SSLA is now helping members to actively consider and support the interests of other people in the community. The SSLA treasurer, MaryAnn dela Cruz, said SSLA has united their community. During monthly meetings, SSLA members discuss and encourage each other about on-going activities, confirm monthly funds balance (from weekly collection), and roster work in the community garden, among other things. SSLA Chair, Jovanna, said the monthly meetings were a wonderful open forum, where discussions helped to correcting any issues and maintain good momentum in the project.
Lina would like to thank all of the generous ABM donors that made this project possible, on behalf of the communities that are benefiting. It is a wonderful example of how a small loan can create tangible change to families in the Philippines, and bring both individual and collective gains that extend well beyond the material.
< Back