ABM Archive Website
THIS WEBSITE CONTAINS ARCHIVE MATERIALS FOR HISTORICAL REFERENCE ONLY
For up-to-date information, including our latest appeals, news, and resources, please visit our current website.
Philippines: DRR update
The Disaster Risk Reduction program in the Philippines is now well under way. ABM's implementing partner IFI-VIMROD (Iglesia Filipina Independiente – Visayas Mindanao Regional Office for Development) has begun the process of community orientation, raising awareness of the DRR process amongst local residents. In total, seven communities in the Leyte and Cebu areas of the Visayas region were identified as being eligible for support, and given the opportunity to participate.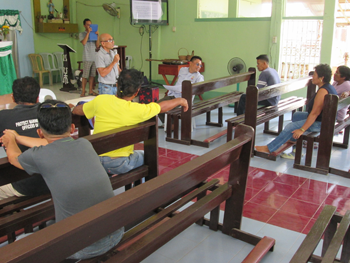 Community organising meeting in Kinatarcan, Cebu. © VIMROD, 2015.
The eagerness of communities to engage in these activities is understandable. The World Bank recently listed the Philippines as one of the 12 countries "at highest risk to climate change", with droughts, floods, storms, rising sea levels, and a greater uncertainty in agriculture regularly affecting the population. An average of 19 to 20 tropical cyclones also visit the country annually, with an increasing intensity leading to wide-spread damage and loss of life, such as the case of Typhoon Haiyan in 2013.
This DRR program will address the potential risks to the 7 communities, and assist in the development of a Community-Based Disaster Management (CBDM) Plan. There are 5 modules that are currently being delivered to each community, covering the following topics;
1. Climate Change Orientation
2. Community Disaster Management Seminar
3. Risk Hazard and Resource Mapping
4. At-home preparedness seminar
5. Community-Based Disaster Plan
By the end of June 2016, each of the 7 communities in the Visayas region will be well equipped to begin effectively addressing the negative impacts of disasters in their respective areas, and will have established CBDM Committees that would ensure the implementation of their CBDM Plans.