ABM Archive Website
THIS WEBSITE CONTAINS ARCHIVE MATERIALS FOR HISTORICAL REFERENCE ONLY
For up-to-date information, including our latest appeals, news, and resources, please visit our current website.
Project Update: Oliva Escamillan – An inspiring leader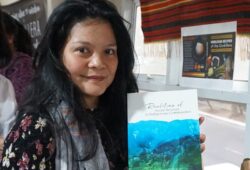 By Clagel Nellas, Executive Director of ABM's partner, IFI-VIMROD, located in Cebu City, The Philippines.
Some ABM supporters will be familiar with the story of Oliva Escamillan. Earlier this year we reported that Oliva was one of many whose lives had been turned around by COVID-19. At that time, Oliva said, "there is great anxiety among the local people regarding both the health impacts of the virus and its economic ramifications. This challenging situation has caused us so much stress and made us overwhelmingly afraid of being infected by the virus. We also are very anxious because any recovery from the economic depression caused by COVID-19 is highly uncertain."
Clagel Nellas, CEO of ABM's partner IFI-VIMROD, spoke to Oliva recently and sent this report:
Oliva Escamillan, 35 and a mother of two, lives in a tenant-dominated farming community in Barangay Bulongan, Toledo City, Cebu. She used to be a typical housewife attending only to her family, household chores and a small, tenanted farm, on which she produced corn and other staple crops.
Her family is in a challenging financial situation given the insufficient income of her husband who works in the city. So, she decided to raise domestic pigs owned by other individuals with a sharing scheme of fifty-fifty in the net profit. This continued until she herself was able to finally buy three sows of her own and these have now had many breeding cycles.
Her involvement in the ABCD project of IFI-VIMROD started in 2019 when the former IFI parish priest in Barangay Bulongan, Toledo City, introduced Oliva and her community to the community development program of the church.
She was then elected as the chairperson of the Organization of Pig-growers in Bulongan (KKMB).
During the time of community lockdowns in April 2020, Oliva did not hesitate to donate a piglet to the organization for breeding. She said, "In order for the KKMB to keep going despite this uncertain situation, the piglet which we all committed to raise will be the pushing factor onward to our next endeavours."
Oliva explained that six members each contributed some feed every month; and this arrangement continued until the pig farrowed with six piglets in February 2021. Another batch of members is now anticipating receiving a piglet, as the sow is now two months into her pregnancy.
According to Oliva, "We govern this project through the policy that we all decided upon. An agreement between the organization and the member-grower will serve as a tool which patterns our tasks and responsibilities for the project. Each member will cover the expenses for the feeds and medications as their counterpart. Once the pig is sold, usually after four months, a member is to give back to the organization the entire capital (amount spent for the purchase of each pig) including 5% interest. But they keep the profit *. This arrangement is far better compared to the usual sharing scheme of fifty-fifty."
"After getting trained in organizational management and sustainable agriculture, we decided to establish an organic communal demonstration farm planted with various types of vegetables in January 2021. This was done through a free-collective labour among members of the KKMB and another organization called Bulongan-Camugao Youth Organization (BCYO). The Bulongan parish priest also participated."
The group members insure their pigs against death, and will be compensated by the group with a bag of rice and some cash should one of their pigs die.
Another benefit of belong to KKMB is that it pays a monthly insurance premium to insure the lives of its members. In the event a member dies, the member's family receives an insurance payout of 5,000 pesos and a sack of rice. This kind (or any kind) of insurance is largely unaffordable in most rural Philippines communities.
Since the group affiliated with the federation of farmers in Toledo, they were entitled to participate in an annual Food Expo, which enables them to promote their chemical-free vegetables to the wider public. The group also shares a portion of their vegetables with the Philippine Independent Church's Sunday community pantry.
Oliva and the two groups have recently launched a project called Odorless Pigpen. This involves the use of bamboo for the foundation of the pig pen, woven coconut leaves for the roof, and saw dust was spread throughout the pen as bedding. Many of the member's husbands who drive motorcycles for hire, took a day off to support the women in the construction process. Having more than 30 people who pitched-in, the project was finished in just one and half days.
Their openness to learning and applying new ideas enabled the group to earn recognition in their community. They have now expanded their active members from 15 families in 2019 to 28 families in 2021.
Leaders like Oliva who know how to build and strengthen relationships, who are team players, and who display maturity in leadership need to be further developed into educators. Her experiential learning in the fields of organizing, organizational and project management will make her an effective teacher and a leader both to her organization and community. She has proven that women are much more than housewives.
The story of Oliva has sent a strong message to IFI-VIMROD to continue developing more potential leaders who can influence other communities to cooperate and sustain the changes well beyond the two years of the project's timeframe.
*Prices of piglets and mature pigs vary, but as a typical example, a piglet costing about 1,500 pesos can be sold three or four months later for around five times that amount.
ABM thanks Clagel for this inspiring story, and congratulates Oliva and her group, KKMB, together with the other group, BCYO, for sharing the news of this great work with ABM. We also thank ABM's generous donors, and the Australian Government's ANCP program who provided much of the funding.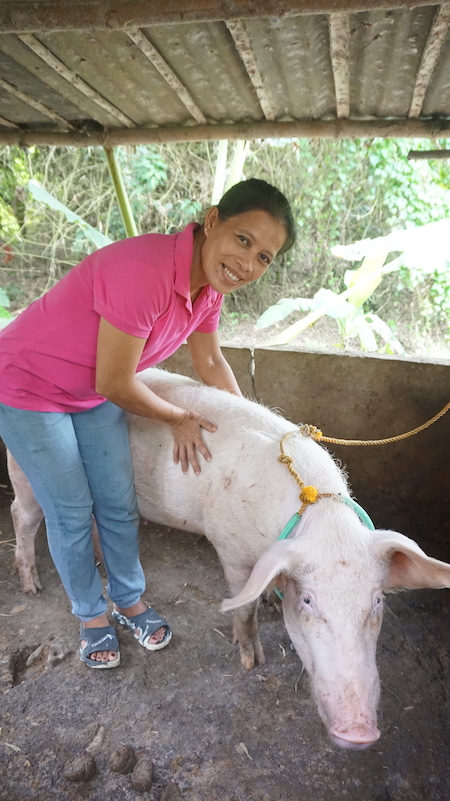 Oliva with one of her pigs. © Clagel Nellas, IFI-VIMROD. Used with permission.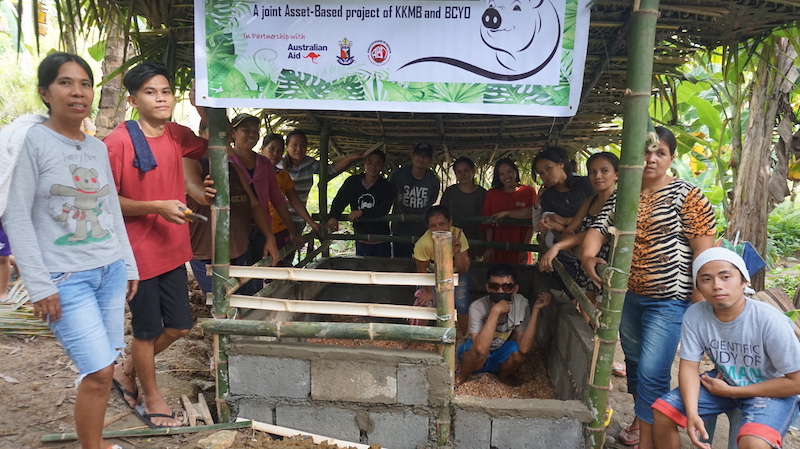 Group members showing off their odorless pigpen. © Clagel Nellas, IFI-VIMROD. Used with permission.