ABM Archive Website
THIS WEBSITE CONTAINS ARCHIVE MATERIALS FOR HISTORICAL REFERENCE ONLY
For up-to-date information, including our latest appeals, news, and resources, please visit our current website.
Philippines: Economic Empowerment update
April 2017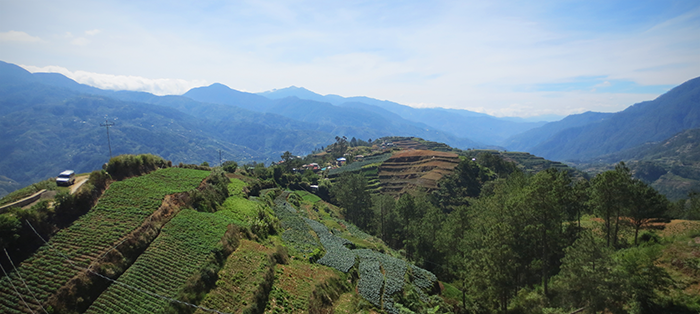 The mountains of Pegueyna, northern Philippines.

© ABM/Kate Winney, 2017.
In March 2017, ABM Pacific Programs Officer Kate Winney had the opportunity to travel to the Philippines with ABM Education Officer Sarah Gover, to learn about E-CARE's approach to community development.
They were accompanied by E-CARE's Monitoring and Evaluation Officer and various E-CARE Project Officers to both the Benguet and Mountain Provinces in the north of the Philippines, and were warmly welcomed by the Bishop of North Central Philippines and the Bishop of Northern Philippines.
Upon her return, Kate wrote about her experiences and the people she met, and her hopes to share this valuable learning with others.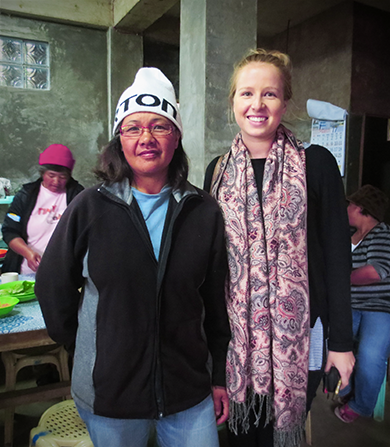 Natubleng 'Persons with a Disability' Association President (right)
with Kate Winney.

© ABM/Sarah Gover, 2017.
"We spent six days winding our way around the mountains, with beautiful views across the farmland and rice fields. Each day we visited a community that E-CARE partners with, and learned about the various projects carried out by community members including organic produce farming, pig and chicken raising, greenhouses, sewing, gardening, system of rice intensification (SRI), and potato wine making.
"After sampling the local mountain tea or organic vegetables grown by community members, we walked through the communities to view the fields of vegetables or piglets recently purchased for raising and talked with other members about the changes in their families and communities after receiving training and livelihood support from E-CARE. Many spoke of the new sense of unity within the community through coming together and identifying assets and strengths, with one member noting that the process is "not just informative, but transformative." People spoke of being able to reclaim their land, new skills in accounting, being able to eat their produce, increased production, and increased incomes resulting further education for their children.
"Evangelita was one of the ladies that belonged to the Pegueyna Family Farmers Association. She shared with us her experiences, and how her life had changed as a result of their project.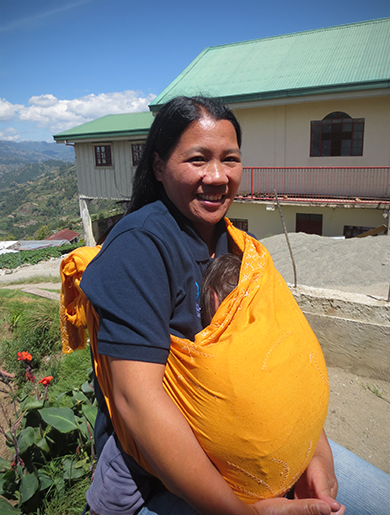 Evangelita from Pegueyna Family Farmers Association.


© ABM/Kate Winney, 2017.

"I have two children aged two and five, and joined the Pegueyna Family Farmers Association eighteen months ago. The livelihood support provided additional funding to my personal capital, and was used for growing potatoes, broccoli, carrots and leeks. This feeds my family and is also sold at the market, increasing my income and sustaining family needs – particularly in health and daycare. We harvest every 3-4 months and I have learned to budget so that the income sustains us until the next harvest. My relationships with my neighbours were not good because of circumstances in the past, but they become successful through the Association. We have learned to understand each other and put down our pride, so that our community will grow and succeed. By God's grace I am very happy and thankful."
"In meeting with communities and talking with E-CARE staff, it was evident that E-CARE have a strong focus on local partnerships, values formation, and community ownership through the assets based community development (ABCD) approach, where community members are joining together to work towards sustainable development.
I am grateful to E-CARE and ABM for this opportunity to learn, and hope to share the valuable lessons learned from ABCD and 'Receivers to Givers' approaches with other ABM partners. Thank you to the E-CARE staff and communities for your time, insights, and generosity."
Kate Winney
ABM Pacific Programs Officer