ABM Archive Website
THIS WEBSITE CONTAINS ARCHIVE MATERIALS FOR HISTORICAL REFERENCE ONLY
For up-to-date information, including our latest appeals, news, and resources, please visit our current website.
Philippines: Economic Empowerment update
November 2017
This story was provided by the social development department of the Philippine Independent Church (IFI-VIMROD), one of ABM's partners in the Philippines. It details a remarkable transformation that is happening in one community, and mirrored in many other communities, assisted by VIMROD from funds provided by ABM and Australian Aid (DFAT).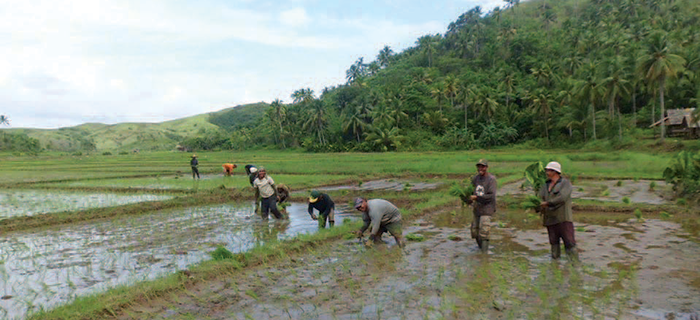 Bauyan rice planters hard at work in their rented fields.

© IFI VIMROD 2017. Used with permission.
A revolution in farming
The Bauyan Farmers Association (BAFA) began in 2015. The members are rice planters, most of whom do not own the piece of land they till. In fact, 75% of the members of BAFA previously could not sustain their families through their meagre farm earnings because of the high rental rates of the land, as well as the sky-rocketing prices of chemical fertilizers and farm disinfectants.
Despite the dismal situation, these rice planters kept on farming. They confessed that they continued to strive and endure the sun's heat and the mud that caked their callused, bare feet as they wanted to engage in dignified work, being productive through the labour of their hands.
Every morning, the BAFA farmers woke up before sunrise and travelled one hour on a pump boat from the town of Socorro to their farmland called Bauyan, all the while hoping that someday change would finally come. Progress, it seemed, was as slow as the "bao" or turtle, a gentle creature they came across every day in their fields.
In 2014, however, progress did come. An opportunity from VIMROD knocked on their doors. Agriculturists had been invited by the VIMROD staff to introduce the concepts, techniques and applications of sustainable farming.
With nothing to lose, the rice planters opened themselves up to these new ideas, and in turn learned how to make and use organic fertilizers as well as indigenous disinfectants. They also learnt how to culture one teaspoon of seeds for four different rice varieties. The four samples have since multiplied, and now occupy the whole Bauyan farmland.
These varieties of rice are a perfect match to the organic fertilizers and indigenous disinfectants, and is now being attributed to the 30% increase in production over the last several years.
Aside from the significant increase in production and reduced costs on fertilizers and disinfectants, the Bauyan farmers also learned that by applying sustainable agriculture techniques, the quality of soil could be gradually revived to its original state. This means that now the farmers can spend much less on other farming input costs.
The remarkable change that the group experienced further pushed the members to strengthen their organization, and even encouraged them to practice a collective way of living. Every month they meet together for planning and fellowship, empowered by their new knowledge and increased income.
One of their realized projects, borne out of their collective efforts, is the establishment of an improved road network from the seashore to the rice fields. This was made possible when they were able to successfully petition PhP12,000.00 (around AU$300) from one of the land owners, who expressed her gratitude to the group when she received an increased share of the production from her farmland. Now, the previously slow and laborious transportation of the sacks of rice to the coastline has become faster and stress-free.
In the near future, the group is also planning to engage in diversified farming, such as the planting of fruit trees and vegetables in order to augment their earnings and have a bio-diversified farm area in Bauyan.
ABM would like to thank all of our supporters who have generously donated towards this project. Your assistance has led to the empowerment of many communities like those in Bauyan, helping farmers and poor labourers provide a better future for their families.