ABM Archive Website
THIS WEBSITE CONTAINS ARCHIVE MATERIALS FOR HISTORICAL REFERENCE ONLY
For up-to-date information, including our latest appeals, news, and resources, please visit our current website.
Philippines: Asset Based Community Development (E-CARE)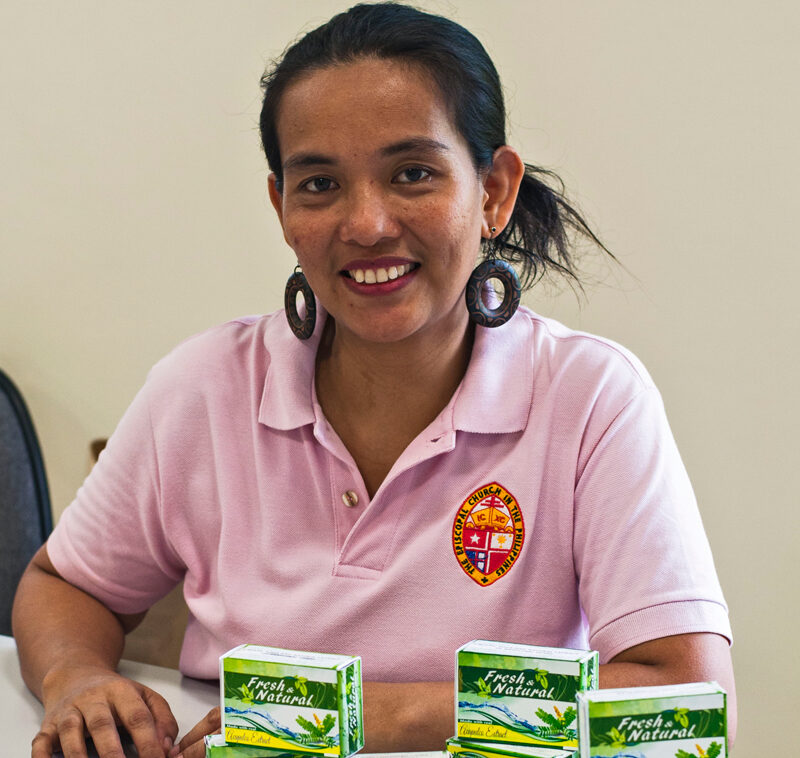 © E-CARE. Used with permission.
The gift of giving
One of ABM's partners in the Philippines, E-CARE, has been having great success turning "receivers" into "givers". This project seeks to strengthen community groups so that they not only have sustainable livelihoods, but also share the benefits they have received from the project with another community. People who previously only "received" project benefits now become "givers" or donors to others.
The 34 community groups – over 3000 people – that make up this project are in the final stages of becoming self-sufficient, albeit with some set-backs caused by COVID-19. Most of the communities have fully developed strategic plans to help put their businesses on a good footing. People have been trained in bookkeeping and in preparing their own income statements.
Since March, 2020, because of COVID-19, training activities in high-risk areas which involve community gatherings have been postponed until it is safe to resume them. However, E-CARE keeps in regular contact with the community organisations through phone calls, messaging and social media. One-on-one coaching has also commenced on how to draw up financial statements.
During COVID-19 the project has made "labour vouchers" available, whereby households can make an advance payment of a future service (for example a promise to do two weeks of farm labour) in exchange for a cash grant now.
Community markets have been established to provide ready access to low-priced necessities (food staples, hygiene products etc) where people are unable to travel to regular markets to purchase these necessities due to travel restrictions at the local level.
The project is also helping affected farmers to market their produce to enable them to recover costs and earn income from their ventures.
Loans have also been made available for people to start small-scale alternative livelihoods that provide affected households and communities with income sources while their main livelihood is being rehabilitated after COVID-19, or as a long-term additional source of income
And the community groups themselves are playing their part. Some have established their own monitoring teams for the Receivers to Givers Program. They visit their members to check on how their livelihoods are going. They then report to the organization during monthly meetings and agree on any follow-up needed. This ensures immediate action can be taken if any of the members are having difficulties with their livelihoods, especially during COVID-19.
Your support of this project will enable the 34 community groups to surmount the barriers of COVID-19 and continue to grow in self-sufficiency. Most of all, it will enable more groups to be transformed from "receivers" into "givers" so that an increasing number can benefit.
» In 2021 the Asset Based Community Development project needs $25,000 (tax-deductible)
---
PROJECT UPDATE JUNE 2021

RECEIVERS TO GIVERS: ROSALINDA'S STORY
Rosalinda makes her living cooking and selling snacks for those in her local community. She makes them in her small home in Quezon City in the Philippines. Read more
---
December 2020 Project Update –

ABM'S PHILIPPINES PROJECT EMPOWERS PEOPLE WITH A DISABILITY
Glenda, from Santa Fe, has a child with cerebral palsy. Families with a member who has a disability are often stigmatised and stereotyped in rural communities in the Philippines. Fortunately, Glenda heard about the Maricaban Persons-With-Disabilities Group. Read more.
---
HOW TO DONATE

| | |
| --- | --- |
| | This project receives partial funding from the Australian Government. |
< Back