ABM Archive Website
THIS WEBSITE CONTAINS ARCHIVE MATERIALS FOR HISTORICAL REFERENCE ONLY
For up-to-date information, including our latest appeals, news, and resources, please visit our current website.
2020 Auxiliary Project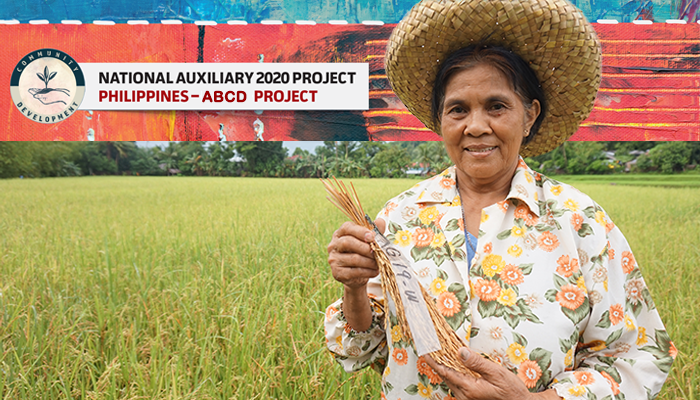 PHILIPPINES – Asset Based Community Development
Social Investment Project
This project is a new and exciting component of ABM's Asset-based Community Development Project (read more about this project here) that ABM has supported, with both its Philippines partners, for many years, benefitting numerous communities and families in that time.
The main Asset-based project continues with ABM's VIMROD partner, operating mainly in the Visayas and Mindanao regions of the Philippines.
This new component is the brainchild of ABM's E-CARE partner, and is part of assisting in a transition from E-CARE receiving funds from overseas church organisations like ABM, to becoming a funder of development in the Philippines and elsewhere, in its own right.
The ABM Auxiliary's support of this project will help ensure that the many communities and families across the Philippines that E-CARE has trained and assisted to develop viable businesses, will be able to be sustained into the future.

What is Social Investment?
Social investment means investing in people. In a sense all of ABM's Community Development projects are about investing in people. But this particular project component has taken this concept to the next
level. It is about ensuring that the time and funding that ABM, through its partner, E-CARE, have invested
in recent years in the 100 or so communities across the Philippines, has been well spent. It is about ensuring that those who were previously living in various degrees of poverty, will be sufficiently skilled and experienced to continue to improve their livelihoods long after their assistance from E-CARE has
ended.
E-CARE and ABM, including the ABM Auxiliary, are very excited about this phase of the Asset-based Community Development Project, and give thanks to God for opportunities to assist in raising funds so that families in the Philippines need never return to the grinding cycle of poverty again.

About this Project
It is the first year of a 3-year project that focuses on capacity enhancement of 100 E-CARE partner
communities across the country, to ensure sustainability of project impacts.
In a sense this project is the final phase of E-CARE's community-based development program as it moves towards a livelihood funds management role in the future.
The overall project objective is to improve organisational, financial management, and strategic visioning
capabilities of these 100 partner organisations and groups.
Alongside this objective is the strengthening and promotion of cultural values of caring and sharing of resources, and increased participation in social advocacy by partner communities and individuals.

Your support will help the
ABM National Auxiliary to
reach their target for 2020
so that many families and
communities across the
Philippines will be sustained
into the future.
E-CARE uses the asset-based community development (ABCD) approach which it adopted programmatically in 2010, with ABM's encouragement and support including providing funding for ABCD training and workshops. ABCD was E-CARE's response to community dependency issues faced by the program at the time.
To further enhance community ownership, the program also introduced its Receivers to Givers (R2G) policy whereby communities are encouraged to 'grant back' to another community the amount they have received from the program. This community sharing value has proven to be a critical success factor for the program as communities aspire to be generous and help others after they have themselves benefited from the project. E-CARE's ABCD and R2G processes have been shared with other ABM partners including our other Philippines partner, VIMROD, the Church in the Province of Myanmar (CPM) and Anglicare Papua New Guinea (part of the Anglican Church of Papua New Guinea).
HOW TO DONATE

Alternatively, for donations by cheque/money order (made out to the Anglican Board of Mission – Australia), telephone or email, view contact details here. Please don't forget to include the project name and/or code PH001EE with your payment details.
Gifts to ABM will be applied to the support of project(s) selected. In the unlikely event of the project being oversubscribed or not proceeding to completion, donations will be applied to a similar project to the one(s) selected.
< Back