ABM Archive Website
THIS WEBSITE CONTAINS ARCHIVE MATERIALS FOR HISTORICAL REFERENCE ONLY
For up-to-date information, including our latest appeals, news, and resources, please visit our current website.
Evangelism and Christian Education update
November 2016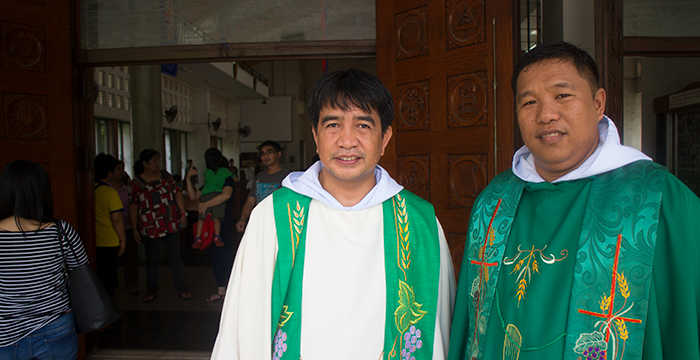 National Integrated Program Officer Fr Denver Marrero (right) with Fr James Boliget, Dean of the St Marys and St Johns Cathedral.

©

Wilnor Flores/ABM, 2016
ABM Church to Church Coordinator, Wilnor Flores, recently returned from a trip to the Philippines. She met with staff and clergy from the Episcopal Church in the Philippines, who implement the Evangelism and Christian Education project supported by ABM, and was inspired by their work.
During the trip, Wilnor kept a diary of the events of each day, to share her experiences with ABM supporters interested in the project. Below is a summary of these entries.
Sunday 23 Oct 2016
On my first day, I was introduced to the National Integrated Program Officer, Fr Denver Marrero. Fr Denver is the key contact person for the Church to Church project in the Episcopal Church in the Philippines, and I was keen to chat to him about the ongoing work.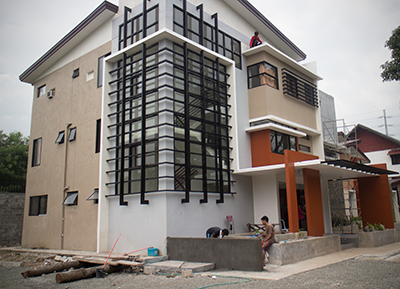 New office for Episcopal Church in the Philippines.©Wilnor Flores 2016
He shared with me his responsibilities as the newly appointed National Integrated Program Officer, which includes the oversight of what was once three distinct programs of the church (Evangelism, Social Ministries and Congregational Development). The new 'Integrated Program' is intending to be more effective and efficient in facilitating the pursuit of the five Marks of Mission.
This face-to-face meeting was very helpful. We were able to clarify the expectations and aims of both ABM and the Episcopal Church in the Philippines, coming to a greater understanding of each in the process. After the meeting he showed me around their new office. We also went to see their old office including the St Andrew's Theological Seminary, Trinity University of Asia and the rectory.
Monday 24 October
I was invited to attend the joint conference of the Integrated Program Office (IPO) and E-CARE office of the Episcopal Diocese of Central Philippines, along with Farida Pasiwen-Cawatig, the ECP-ABM Liaison Officer of the Episcopal CARE Foundation.
Some issues surrounding the work of E-CARE in communities was discussed, including the importance of emphasising community ownership and self-reliance. The meeting was held in the new Diocesan office in Novaliches. The construction is still on-going but it looks modern and refined (pictured above).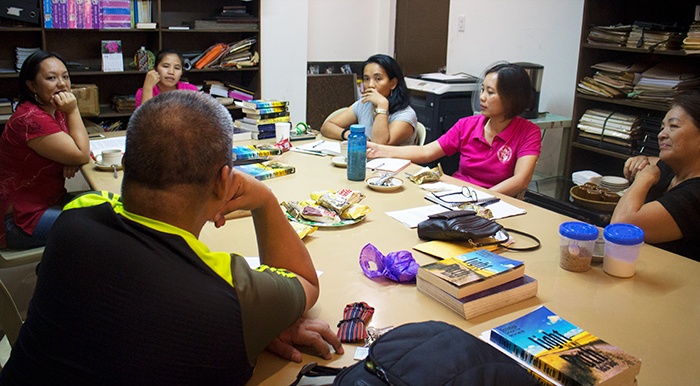 Conference of the Integrated Program Office and E-CARE office of the Episcopal Diocese of Central Philippines.

©

Wilnor Flores/ABM, 2016
After lunch, we travelled for 6 hours to Baguio. We stayed in Eco Lodge that is located within the compound of the Episcopal Diocese of North Central Philippines.
Tuesday 25 October
I had a meeting with Fr David Tabo-oy, Integrated Program Officer of the Episcopal Diocese of North Central Philippines, and Rev. Lioba Achawon, Integrated Program Officer of the Episcopal Diocese of Northern Philippines. They shared about the things that are happening in their respective dioceses, in terms of Evangelism and Christian Education, and their plans for the Integrated Program.
The Episcopal Diocese of Northern Philippines has conducted multiple training at the deanery level, focusing on climate change and peace building. Peace building is a critical topic, as tribal war is a long standing problem in the Mountain Province. There is a need to empower the clergy as they play an important role in initiating peace talks between rival tribal groups when dispute occurs. There were also activities for the youth, to teach them the importance of environmental stewardship. This included disaster debriefing training, and participation in the carbon offset program being implemented by the church.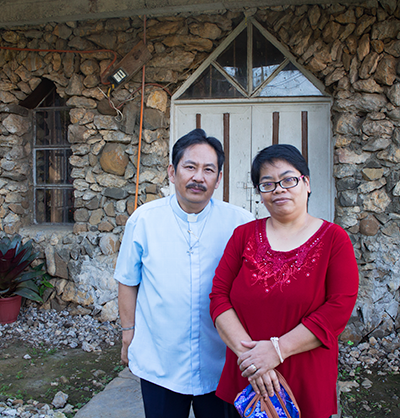 Fr David Tabo-oy and Rev Lioba Achawon.

©

Wilnor Flores/ABM, 2016
Padi Lioba shared with me an inspiring story about the women in one of the communities in Sagada who were really inspired in building their own church using their bare hands. As a result of the evangelism work supported by ABM, these women who participated in some community projects were motivated to learn how to make the so-called interlocking brick so they can build a church in their community.
Wednesday 26 October
Setting out at 6:10am, we travelled to Tabuk in the Episcopal Diocese of Santiago. This area was among those hardest hit by the recent Typhoon Lawin, and at the time of our visit the power had still not been restored. Along the way, we saw uprooted trees, houses damaged, missing rooves, and power posts hanging sideward. Many people were busy fixing their houses after the calamity.
After a long 10 hours, we arrived at the Diocesan Centre of the Episcopal Diocese of Northern Luzon for dinner.
Thursday 27 October
The day began with a meeting for Fr Denver (IPO National Officer), Fr Claudio Bagano (Episcopal Diocese of Northern Luzon IPO Officer) and myself to discuss what was happening in the diocese in terms of the Evangelism and Christian Education program.
In the ministry for children, they provide altar guild activities, Sunday school, VCC (Vacation Church School), music training, and liturgical preparation. For youth, they provide choir and leadership training. And for adults, they have Brotherhood of St. Andrew (BSA), Episcopal Church Women (ECW), Golden Agers (in the Cathedral) and there is that organization for widows in St Thomas Parish called Episcopal Ladies Singles Again (ELSA).
With ECP's Vision 2018 toward a vibrant and dynamic church of caring, witnessing and mission oriented church, they have seen the need to expand their Christian Education and Nurture program to include activities that will cater to all the sectoral groupings in the church. To be able to achieve Goal 2 that states "All members of ECP are participating and sharing parish life", and Goal 3 that says "We shall have a clergy ministry that is fully enhanced, while lay ministry is fully developed", they have come up with two exciting activities:
Lay Pastors Course. Empowering lay pastors to become active in the Eucharistic ministries, and other work of the clergy, due to a shortage of ordained clergy on Sundays.
Diocesan Music Ministry. A Director will be appointed to work with the vicar or rector in organising choirs and music trainings in every deanery, with the aim of attracting more young people to the church. An annual Diocesan Music Festival is also being planned.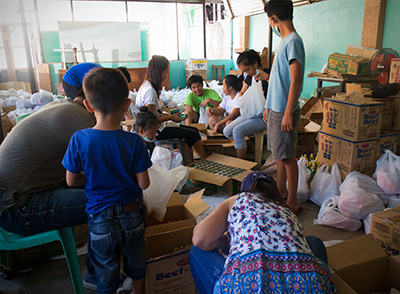 Typhoon Lawin relief.

©

Wilnor Flores/ABM, 2016
After this meeting, I had the opportunity to see the Episcopal Church Women and Youth organisation (SKEP) packing relief goods for victims of Typhoon Lawin. It was heart-warming to learn that the people who first responded and provided relief donation to the victims in the North were actually victims of Typhoon Yolanda in the Visayas. Once recipients of aid, they are keen to give in an inspiring effort to "let the chain of love be unbroken".
After lunch, Claudio Bagano took me to see several congregations, so I could have a better understanding about the ministry and its needs. Padi Claudio explained that he was assigned to four stations, and visits them all on Sunday to conduct church services.
We travelled a long and winding road to one of these four stations – St. Alphege Church. It was not a big or modern church but something about it, the community, the members and the surroundings bring that sense of tranquillity, humility and austerity. Due to its location and the scarcity of clergy, there had never been a rector assigned, only a priest-in-charge. I finally realized what Padi Claudio was saying about the "harvest is plentiful but the labourers are few".
Overall, the trip was physically exhausting but totally worthwhile. It was so good to be able to meet the Partner staff face-to-face. It is an important way of strengthening the partnership, and improving understanding of the needs of both ABM and the Episcopal Church in the Philippines.
For me, it was also a spiritual journey. I can say that my faith has been renewed after the trip, and I am very grateful to ABM for this opportunity.