ABM Archive Website
THIS WEBSITE CONTAINS ARCHIVE MATERIALS FOR HISTORICAL REFERENCE ONLY
For up-to-date information, including our latest appeals, news, and resources, please visit our current website.
Philippines Evangelism and Christian Education Update
October 2016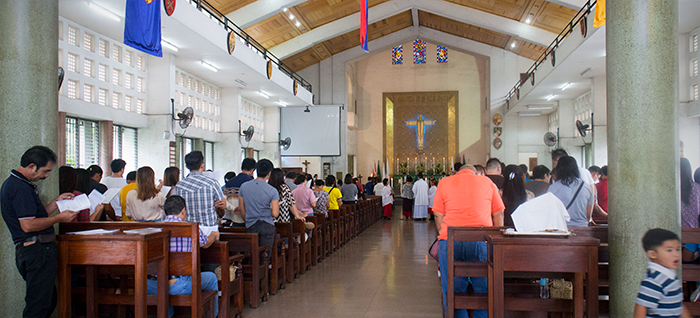 A Sunday service commences in St Mary and St John Cathedral, Manila.

© Wilnor Flores/ABM, 2016
Since January 2016, the Episcopal Church in the Philippines merged their three major programs of Evangelism, Social Concern and Development into one new Integrated Program. This change in mission strategy was borne out a desire to increase the effectiveness and cohesion of church activities, consolidating efforts to achieve the 2018 vision.
This 2018 vision is founded upon the Five Marks of Mission, and lead to the development of a 5 point agenda outlined in the Integrated Program plan.
In the midst of these changes, the Episcopal Church in the Philippines was quick to affirm the central role of Evangelism, specifying that this objective was at the forefront of all activities planned under the new program.
Since the implementation of the Integrated program, there have been four major activities undertaken by the church.
A total of 28 training workshops were conducted for 487 lay leaders, discussing the role of lay-persons in everyday life and the ministry of the church. The aim was to have these lay leaders empowered and equipped with knowledge about their responsibilities, encouraging them in the preaching of the Word and the ministry of the Eucharist.
Seven dioceses conducted summer youth camps in their dioceses, with 13 deanery assemblies held during that time. The youth enjoyed fellowship with each other, and learnt about environmental concerns like Climate Mitigation, and the efforts of the church in this important area. Approximately 1050 youth joined in this time, making it a highly successful series of events.
Two dioceses also conducted initial trainings for clergy on Peace Making, especially during times of tribal wars. Clergy were equipped with vital knowledge on how to handle conflicts in mountain areas of the cordillera, where tribal wars often occur. It is hoped that these clergy, who are ideally placed in their communities, will play a central role in facilitating peace between rival tribal groups when conflict arises.
A national clergy gathering was held at St. Andrew's Theological Seminary, with the important aim of finding a unified theological approach in understanding the different cultures and traditions of the ethnically diverse Episcopal Church of the Philippines. The gathering, which included 256 active and 14 retired clergy, was said to broaden general knowledge in understanding the cultures and traditions of indigenous peoples.
ABM would like to thank everyone who generous gave towards this project in 2016, helping to equip and train so many leaders in the Episcopal Church of the Philippines.