ABM Archive Website
THIS WEBSITE CONTAINS ARCHIVE MATERIALS FOR HISTORICAL REFERENCE ONLY
For up-to-date information, including our latest appeals, news, and resources, please visit our current website.
Barangay Maligaya: The Happy Place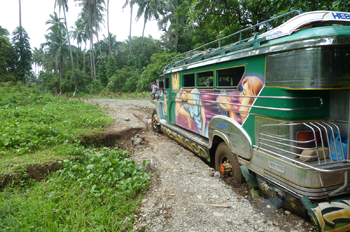 Jeepney trapped in mud.
We crossed seven rivers and five streams to reach Barangay Maligaya (Bgy Maligaya), a picturesque coastal community facing the Pacific Ocean, in the Philippines. We travelled the rough road from General Nakar, the nearest town, stretching about 35 kilometers to the east to get to the community. This would have been a 30-minute drive elsewhere but it took us close to 4 hours, as the jeepney had to stop at each river crossing and two men had to clear the path for big rocks in the water. Obviously the ride would not have been realistic enough without a breakdown – we had to stop for an hour whilst the men pulled ropes to free one of the back wheels of the jeepney which was deeply stuck in mud.
We visited Bgy Maligaya in the middle of summer in April. The sweltering heat was tempered by the occasional summer breeze and some drizzling that came and went even before we realised it was raining. The way to the community was stunning – there were hundreds and hundreds of coconut trees as far as the eye could see on one side, and on the other, the endless blue of the ocean. A slice of paradise indeed to a first time visitor like me but for locals, a very harsh and unfriendly place when the weather turns bad. This low-lying area is very much prone to flooding when heavy rains and typhoons hit.
Bgy Maligaya, literally the 'happy place', has a mixture of Indigenous people – the 'Dumagats' who can be found in this part of Luzon, and Tagalogs (the collective name for the majority of locals of the Central and Southern Luzon regions of the Philippines). These people are dependent on farming and fishing for livelihood. Rice, corn and vegetables are grown mostly for consumption, and coconut for income (in the form of copra). There is also some small scale fishing when the ocean is calm enough for their small fishing boats. The average monthly income is about 80 dollars for a family of 6 (or about 50 cents per person per day). The community wanted to improve their livelihood and find other ways to earn income. We visited them to follow up on their plans to establish small income-generating activities, so that women and men have an alternative source of income, aside from farming and small scale fishing.
Even though we met many different people in the community, I thought to share with you the experience of meeting three women who stood out for their commitment, involvement and their efforts to improve the economic situation of the people and their families in Bgy Maligaya.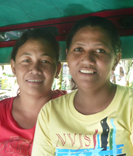 Gina Florante DelaCruz
and Miralyn Torres.
The first is Miralyn Torres, a native of Bgy Maligaya, who works with the National Council for Indigenous Peoples (NCIP) in Infanta, the next town from General Nakar. Miralyn's mother was amongst those who perished in the floods that ravaged Bgy Maligaya and its neighbouring communities in 2004. She was a converted Anglican and it was her wish to put a church there. Miralyn's family have donated land to build a church in the community to fulfil their mother's wish. Although she does not live in Bgy Maligaya, Miralyn always finds the time to travel with development staff and help in community organising and meetings. It was actually Miralyn and her deceased mother who brought Bgy Maligaya to the attention of the Episcopal Diocese of Central Philippines (EDCP) through the mission parish in General Nakar.
Secondly, Gina Florante DelaCruz, one of two community research volunteers for this project, who goes from house to house to interview and gather information. She encourages men and women to come to meetings and attend training and workshops, and serves as the main contact person between the project and development staff. When I asked her how and why she got involved in the project, she said, "I am a widow and my children are all grown up so I have time to do these things. I was born here and my livelihood is here. It makes me happy to help and support the others so that together we can improve our life here. Miralyn is my friend and when she told me that the project was looking for volunteers, I said I could do it.'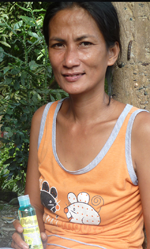 Wilma Torres
Last but not least of these three women is Wilma Torres, a distant relation to Miralyn. Wilma is a barangay councillor, an elected position in the community, and is naturally looked up to as a local leader. She organises community meetings on her front lawn, hosts the development staff when they come to visit and acts as spokesperson for the womenfolk of her sitio. At the time of our visit, there was already a decision to focus on coconut-based livelihood activities. Some of the women in the community attended training on virgin coconut oil production, soap-making and massage oil production. They were keen to discuss with us, and amongst themselves, the next steps in setting up the facilities to make these coconut-based products.
Whilst it takes a whole community to help make a project successful, there are individuals who put in that extra effort, working tirelessly, continuously encouraging and engaging with others in their community so that together they can achieve what they have set out to do. These three women are Bgy Maligaya's champions.
In a place where adversity suddenly comes with the change in the weather, the name 'happy place' might be a way for the community to remember that, after every disaster, Bgy Maligaya is still the same place they call home.
Lina Magallanes
South East Asia Program Coordinator
August 2012